The Best Bars in Leicester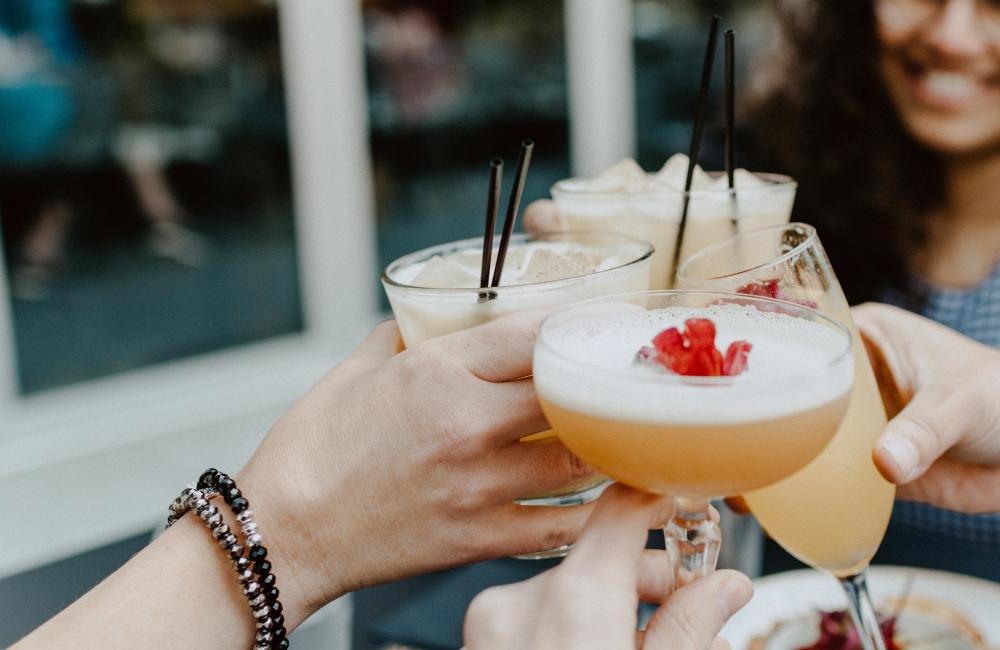 Leicester is a vibrant city in the East Midlands region of England. Home to two excellent universities – The University of Leicester and De Montfort University (DMU) – the city boasts a large and diverse student population. But top-tier education isn't the only thing that Leicester is good for. If you're on the hunt for the best bars in Leicester, we've broken it all down for you and found some cool bars in Leicester that are fun, quirky and definitely warrant a visit, if not multiple!
The Top 10 Best Bars in Leicester
1. The Exchange Bar (£)
Located in the city centre and just a short walk from DMU, the Exchange Bar prides itself on being known as a "community-based venue". Hosting a range of comedy shows, gigs and private events, The Exchange Bar focuses on creating an eclectic and inviting atmosphere that truly makes it one of the coolest bars in Leicester. It has a super welcoming feel, with the décor and furniture adding a boho-chic vibe with various comfy sofas, chairs and tables laid out across the area. Enjoy a wine, spirit or a bottled beer (which are as cheap as £5). Their own branded gin is a must-try! The Exchange is also known to serve some of the best coffee in Leicester. The ideal location for a chill evening out or a fun brunch with your friends, this homely bar has something for your nights out and the day after as well!
2. Manhattan34 (££)
The Manhattan34 is a cool bar in Leicester that is inspired by the famous Prohibition era of the 1930s. This stylish bar has a glamorous jazz-meets-vintage American vibe, which emphasises the excitement and secrecy that surrounded this era. The combination of the art deco interiors with the endless live music events creates an elegant and entertaining environment. Their expert bartenders create bespoke cocktails with exciting flavour combinations. But if the mixology isn't your cup of tea, Manhattan34 also has a specialist range of beers and wines, along with uniquely infused vodkas and gins to tickle your tastebuds! And why not ask the bartender to create a drink that isn't on the menu? A truly customisable and one-of-a-kind experience, Manhattan34 is a bar in Leicester's city centre that's perfect for any adventurous students!
3. Firebug ­(££)
The Firebug is a triple threat a bar, restaurant and music venue which is located bang in the middle of the city centre. A short distance from Clarendon Park and both universities, the Firebug is a student favourite! From live music gigs, quiz nights and book launches to film screenings and exhibitions, there is always something exciting in store. For all those looking for something new, be sure to try the Firebug's signature A&E shots. Everything you need to know is right there in the name! The Firebug's beer garden is perhaps its best-kept secret, a spacious and quaint area for those evenings where you just want to chill. And best of all? The Firebug offers student discounts all day, every day, on food and all alcohol! With great deals, an outdoor garden, and uniquely thrilling shots, the Firebug is a bar in Leicester city centre that guarantees a fun time.
4. BrewDog (£)
Featuring 28 taps of fresh, specially curated craft beer, the BrewDog is a large chain of bars with a special branch in Leicester that caters to all the city's beer lovers. But if you're not one for beer, don't fret – the bar also has a wonderful selection of other alcohol, with Fizz Friday offers where prosecco is only £15! As if that wasn't enough, they also have a bottomless wings offer running every Wednesday. With a fun, easy-going vibe, the BrewDog bar is a cool bar in Leicester that even has a pool room for large groups to unwind and get into the competitive spirit. Ideal for a fun round of pool after lectures, the expansive range of beers, food offers and central location makes this one of the best bars in Leicester.
5. The Turkey Café (££)
The Turkey Café definitely makes it onto the list of cool bars in Leicester. The exotic middle eastern architecture of the building has been preserved since the 1900s. Located on Granby Street just in the city centre, it's a hard one to miss! The art nouveau décor is nothing short of fascinating, but this isn't the only thing that makes The Turkey Café one of the best bars in Leicester city centre. This café-bar boasts a broad range of cocktails and alcoholic shots from all around the world! With regular open mic nights, there's always a great showcase of emerging talent and sometimes even the opportunity for a brave audience member to test their vocal cords. A brilliant atmosphere, affordable alcohol, plus great tea and coffee and a spectacular décor, The Turkey Café does not disappoint.
6. The Terrace (£££)
The Terrace is not your typical student bar. Serving a range of premium cocktails and champagne, The Terrace is one for the days you want something extra- special. With a touch of sophistication, this stylish bar is always buzzing with sensational acoustic performances, DJs and bands. Stocking over 200 different types of liquors and spirits, The Terrace stands proud as one of the best bars in Leicester. Truly creating a bespoke experience, this bar is an ideal location if you're seeking a lively, sophisticated night out. Also perfect for those occasions when parents are visiting you. There is a strict dress code policy allowing only smart/casual clothing and no athletic wear, so don't be hesitant to dress up!
7. 33 Cank Street (£)
Nestled in Leicester's old town, right in the city centre, 33 Cank Street claims to have the biggest cocktail selection in the entire Midlands! Naturally, you're guaranteed a wonderfully expansive range of unique cocktails alongside the classic choices that are also available. With classic cocktails priced at £6, 33 Cank Street is ideal for delicious drinks on a budget. If their iconic cocktails encourage you to begin your mixology journey, they host cocktail-making masterclasses at just £35 per person.
8. Queen of Bradgate (£)
The Queen of Bradgate is a unique bar that combines the niche world of Craft Beer with a varied selection of cask ales and cocktails, all accompanied by fresh, superbly-cooked pub food! There are also live music performances to enjoy on a weekly basis! Their reasonable prices, comforting food and vintage décor makes for a relaxed yet fun experience. From Sunday Roast to pulled pork sandwiches, the food is perfectly complemented by artisanal brews and cocktails, all under £10!
9. The Locker Room (£)
Leicester is the only city outside of London that has a premiere Football Club, Rugby Club and Cricket Club! So, we had to include something on here for all the sports enthusiasts. The Locker Room is a sports bar right in the city centre with the largest projector in Leicester and more than 25 screens across the bar. If you enjoy a fun game over being a spectator, this bar also has American and English pool tables and Olympic-grade ping pong tables. The food menu features classic bar staples such as chicken and cauliflower wings, hot dogs and pizzas. Plus, the alcohol menu has everything, from draught beer to cocktails and wine. If you're in for a fun night, then don't miss their offer on shots and bombs, with 4 available at just £10. A buzzing atmosphere and great deals on food and alcohol, The Locker Room is one of the best bars in Leicester for all the sports aficionados.
10. The Tree (£)
The Tree is a highly recommended bar in Leicester city centre. A wonderful atmosphere, hearty dishes, live music, and a large collection of spirits, ales, beers, and cocktails are all there for you to enjoy. The Tree has a charming courtyard with quirky wall art and seating, ideal for a sunny day if you're quick enough to grab a table, of course! The cocktail menu has all the classics, from Espresso Martinis to the iconic Long Island Iced Tea. A chilled-out, relaxed vibe with lip-smacking wood-fired pizzas, this cool Leicester bar is the perfect getaway from stressful days at university! The Tree also offers a range of deals from 5 shooters for £10, double up on spirits for just £2, and bottles of wine and prosecco at £15. At this bar, you're guaranteed a great time without burning a hole in your pocket.  
As we've taken you through our curated list of the best bars in Leicester, we're confident this lively city has plenty of choice for a few unforgettable nights out. And, as with all great nights out, some delightfully satisfying drunk food cravings are bound to follow.
For more insightful resources on uni life, be sure to check out our blog!