Getting your student accommodation deposit back: a guide for university students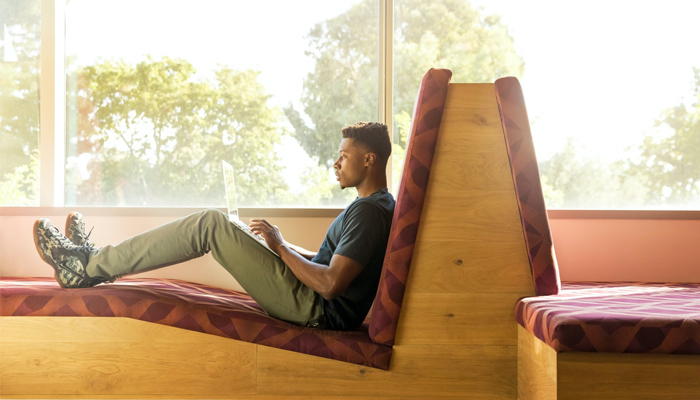 For many students, renting accommodation away from home and living with friends for the first time is one of the best parts of the university experience. Paying a student accommodation deposit and entering into a contractual agreement with a landlord are important elements of this, so you need to understand your rights and responsibilities.
In 2021, the National Student Accommodation Survey found that 10% of students had trouble getting their student house deposit back, and one in three students didn't read their accommodation contracts. We want you to be more prepared, so in this article, we're taking a look at what a student accommodation deposit is, how you can ensure you get yours back and what to do if there's a disagreement at the end of your tenancy.
What is a student accommodation deposit?
A tenancy deposit (or 'bond') is a returnable sum of money paid to the landlord or letting agent, which is held as security against any rent arrears, property damage or required cleaning when you move out. The amount may vary but is usually equivalent to one or two months' rent.
Getting your student accommodation deposit back at the end of your tenancy requires you to have looked after the property – including its furnishings and contents – and to have paid the rent. If you don't, your landlord can make reasonable deductions. You can still decorate and restyle your space while you're living there, so long as you don't make any permanent changes or damage anything that was already in the property.
Student deposit protection
If you are renting under an assured shorthold tenancy (and almost all tenancies are ASTs), then the protection of your student deposit means a government-approved Tenancy Deposit Protection (TDP) scheme. There is a choice of three in England and Wales (and separate ones operate in Scotland and Northern Ireland):
Deposit Protection Service
MyDeposits
Tenancy Deposit Scheme
These TDP companies keep your deposit safe and ensure your landlord returns what you are owed at the end of your tenancy. The landlord or letting agent must place your student deposit in the protection scheme within 30 days and inform you where it is held. If you think your landlord is being unfair with returning your student house deposit, you can challenge them through the company operating the plan.
There is no legal requirement for student deposit protection for those living in halls of residence, or if you're a lodger.
How do I get my full tenancy deposit back?
Of course, none of this means that you can't still enjoy the space you're living in. Your student accommodation is your home, and you can still have a lot of fun living there!
We've put together some simple steps you can take at each stage of your tenancy to make sure you get your student accommodation deposit back in full.
Before you move in
Check if your landlord is approved by your university – they will usually keep a list of approved landlords and letting agents.
Read your tenancy agreement so that you understand your obligations as a tenant. It may be a bit of a boring read, but it's only an hour of your life and could help you get your student house deposit. Some universities and student unions offer free contract-checking services; if not, ask a parent or friend for their advice.
Ensure your student deposit is protected with one of the authorised deposit protection schemes.
Check the property's inventory when you move in. This is a comprehensive list of the contents of the house or flat, down to the last teaspoon. Make your landlord aware of any discrepancies between the written inventory and what's actually in the property.
Take photos of the condition of key items in the property such as walls, carpets, the oven and the lawn – especially any areas that are already damaged. Look for stains, cracks, scuff marks and mould. Record the date of the photos in some way.
During your stay
Remain on friendly terms with your landlord. This way, they are more likely to be lenient if you run into an issue.
Keep the place reasonably clean and tidy. The best way to do this is to devise a fair rota for cleaning and other chores that all housemates agree on as soon as you move in. Bear in mind that your landlord has the right to enter the property to view its condition, although you must get at least 24 hours' written notice and inspections must be done at a reasonable time of day.
Replace anything you lose or break if it's not too expensive. Buying another one yourself is likely cheaper than the landlord replacing it when you move out. Make sure you hang on to receipts and other documents.
Report problems with the property promptly. If an issue develops – such as a water leak or mould – let your landlord know as soon as possible, take photos and keep evidence of your communication.
Keep up with your rent and other bills. Have a budget and review your finances regularly – it might sound tedious, but it's a great life skill that will definitely pay dividends.
When you move out
Agree on dates with your housemates for moving out so that you can all do your fair share of tidying and cleaning. Ideally, everyone should be at the final inspection of the property.
Invite your landlord around about a week before the final inspection so you can find out if there's anything that they are unhappy about, and you have time to discuss it.
Clean, clean, clean– until everything is in the condition that it was when you moved in. If you're having a moving-out party, do this a week before so that there's time to clean up afterwards. Don't forget the skirting boards, under beds, windows, oven and fridge (plus defrost the freezer).
Get rid of rubbish. If it wasn't in the property when you arrived, you need to get rid of it – leftovers in the fridge, socks in the back of drawers and even the contents of the vacuum cleaner! Some landlords will charge you for things that have been left behind.
Take photos of the property once everything is clean and tidy. You can also take a snap of the final meter readings for utilities.
Agree on the final inventory with your landlord and keep a copy.
Lock up and return all keys to avoid the cost of changing locks. Someone is bound to forget, so make sure you remind everyone (nag if necessary – it's your deposit that's at stake). If everyone is leaving at different times, designate a bowl near the door to collect each key.
When will I get my student house deposit back?
Your landlord should return your student accommodation deposit within ten days of the tenancy ending, providing they are satisfied with the property's condition. If the landlord intends to make deductions from your tenancy deposit, they must discuss it with you and give you their reasons. You can either accept the deductions – if they seem fair – or challenge them, which you can do through the TDP operator.
What is my landlord allowed to deduct from my deposit?
You may not get the full amount of your student house deposit back at the end of your tenancy if you owe rent or if there is damage to the property or its contents. This might mean a wine stain on the carpet, marks on the wall, missing cutlery, water damage because you didn't report a leak soon enough, or a bathroom so neglected that it requires a deep clean. However, landlords are not allowed to take unreasonable amounts or keep any of your student accommodation deposit to cover 'wear and tear' (as your rent should cover this). They can, however, charge for the cost of any work required to get the property back to a lettable condition.
What happens if there's a dispute?
If you're in dispute with your landlord over the student house deposit, the TDP company can act as a mediator, and the money will remain protected until the issues are sorted out.
All the TDP schemes (including those in Scotland and Northern Ireland) offer a free dispute-resolution service. If you use it, you and your landlord will be asked to provide evidence, and the TDP operator's decision will be final. Your landlord then has ten days in which to return your money.
If your landlord hasn't used a TDP scheme when they should have, you may be due compensation, and you can take your case to your local county court. If you are renting from your university, it will have its own complaints procedure, or you can refer to the government-approved Code of Practice for Educational Establishments.
Will I have to pay for damage done by my housemates?
This depends on whether the tenancy agreement you've signed is for the whole property or for each room individually. With a joint tenancy agreement, all housemates contribute to a single student accommodation deposit, with everyone being equally liable if there are rent arrears or damage. This applies even if only one tenant has unpaid rent or if the damage is limited to just one person's room.
If your landlord makes a deduction from the student house deposit, you'll have to agree among yourselves on how to share out what's left.
The TDP schemes normally only deal with the lead tenant named on the agreement, so the lead tenant will have to represent the other tenants. If, on the other hand, you and your housemates have signed individual tenancy agreements, you will only be liable for your room and the communal rooms.
We know that all the legal bits to do with your student accommodation deposit can be a little daunting, but it can be boiled down to three key things to remember: document everything, pay your rent and don't wreck the place while you're there!
For more information on how students pay for accommodation and answers to other pressing questions like 'do students pay council tax?', check out the rest of our blog. If you'd like to see the accommodation options for your college or uni, see our student accommodation directory.