What are the different types of student accommodation?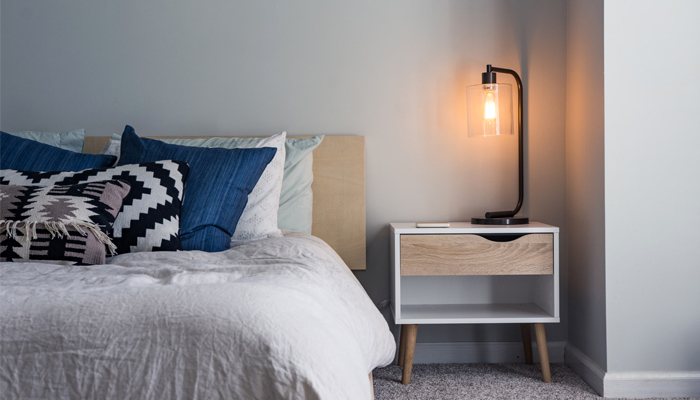 If you're thinking about the different types of student accommodation while you're at university, you'll want to understand the range of options available and what the most popular choices are. The type of student accommodation available to you may vary throughout your studies, so it's a good idea to get familiar with the various options – and their pros and cons – as early as possible.
We're going to take a look at the most common types of accommodation for students, including:
Privately-rented accommodation
University halls of residence
Private sector halls of residence
Living at home
Parent-purchased properties
Privately-rented accommodation
Private accommodation is the most popular type of accommodation for students, and many students opt for private renting in their second and subsequent years.
Although you won't have the convenience of living on campus in this type of student accommodation, you may be closer to town and feel more part of the local community. For first-year undergraduate and post-graduate students, it can be difficult to meet students to share with, but your university's accommodation office can usually help to find other students and match you up.
You could rent a property to live in alone, you could share a house or flat with friends, or you could rent a room in a property in which your landlord also lives. However, if you do this, bear in mind that your landlord will have greater ability to end your tenancy because the law recognises that landlords are more vulnerable in their own home if the tenant-landlord relationship breaks down.
Pros:
You have total freedom and independence.
You can choose your housemates and the style of property you move into.
There is more freedom to decorate your room and move furnishings around if you prefer – just make sure you're sticking to the terms of your tenancy agreement so you don't lose your deposit!
You can choose to live close to your uni, town or other amenities.
Cons:
You will usually have to budget and balance rent and bills as separate entities.
If you aren't close to your campus or buildings, you might need to walk quite far or rely on public transport.
You will be responsible for all cleaning and daily maintenance – no cleaner will be helping out with the common areas.
The properties available can often be older, so check carefully for signs of disrepair or damp when you view the place.
University halls of residence
Halls of residence are owned and operated by the university and are often the preferred option for freshers and study abroad students.
Since they are usually located on campus, they are convenient (near the library and other university facilities, for example) and therefore are in high demand. Living in halls in first year can be useful because if you choose to go into shared accommodation in your second year, you'll probably have to decide who you want to live with before Christmas. Halls offer top socialising opportunities for you to find next year's housemates!
The downside is that you might not get your first choice of room in this type of student accommodation (with en-suite rooms almost always oversubscribed). The rooms available are often unremarkable but usually comfortable.
Check out our previous post to learn some tips for living in student halls!
Pros:
A good stepping stone between living at home and complete independence, as you won't have the hassle of bills or dealing with landlords.
Most halls accommodations are close to campus, so you won't have to go far for your classes, clubs or social events.
Easier to meet new people and make friends – and you have a built-in group for those first nights out .
Some halls organise and run events like pub crawls or quizzes, and many have a social media presence to let you meet your new housemates before you even get to uni.
Cons:
Halls are very competitive and you may not get your first choice of accommodation.
They're typically only available to first-year students.
Some halls have strict rules – such as keeping fire doors closed at all times or quiet hours – and can penalise all of you if these are broken.
Fire alarms can mean evacuating the entire block if someone burns their toast at six in the morning.
Catered or self-catered?
Whether you choose to be in a catered or non-catered type of accommodation for students will impact the standard of kitchen facilities you'll have access to in halls. Catered accommodation is less popular than in the past but is still an option at some unis. You pay additional rent to cover your food but save time on shopping, cooking and, of course, washing up.
Remember, though, that shared kitchens are a great space in which to meet people and make friends. Also, cooking for yourself is a valuable life skill and will mean you're not tied to the schedule of the canteen.
Private sector halls of residence
Private halls are similar to university halls – you have your own room and some communal areas, such as a kitchen, lounge and laundry room – but they are owned by commercial companies.
Although some of these types of student accommodation work in partnership with unis, they are generally not located on campus and may instead be in the city centre, close to shops, eateries and nightclubs. Compared to uni halls, there may be a greater choice of rooms, often including studio apartments (with your own kitchen and bathroom).
Pros:
Purpose-built and stylish, with more choice of room types.
Often have more amenities, which can include gyms, games areas, cinema rooms and saunas.
Bills such as utilities, broadband, contents insurance, general maintenance and some cleaning are generally included.
Cons:
Can be one of the more expensive options to pay for – all those amenities don't come free!
You might not be living with people from your university as private halls might cater to multiple unis or colleges in the area.
Living off-campus might leave you with FOMO.
Living at home
For most students, the university experience would not be the same without living away from home. However, some choose to live at home while studying – either through personal choice or for financial reasons.
Living with parents or guardians is a particularly popular option for students who can commute into London due to the potentially high cost of any type of accommodation for students in the capital.
Pros:
Typically the cheapest option – even if you make a contribution towards your living costs, it will most likely work out much less expensive than living in student digs.
You know you have a comfortable space to come home to at the end of the day.
You keep your support system around you and you won't feel homesick, which can be a struggle for students living away from home.
Cons:
You will have to make more of an effort to meet people when at uni, whether in your lectures or through sports and social activities.
If you're doing long commutes to get back home each day, you need to factor in travel times and costs.
Lack of independence when you answer to your parents.
Your choice of uni is restricted by where your family lives.
Parent purchase
Another type of student accommodation that has grown in popularity in recent years is for parents to purchase a house or flat and act as landlords to a group of students that includes their child. While this can make a lot of sense financially, take time to consider the implications.
If one of your friends is the landlord's child, some kind of dispute with their parents has the potential to spoil your friendship. And if your parent or guardian is the landlord, you could be in the awkward situation in which your parents are chasing late rent payments.
In this kind of buy-to-let situation, parents may prefer to hand the property management over to a local letting agent.
Pros:
Typically significantly cheaper than private renting from an unknown landlord.
Parent landlords are more likely to let you decorate the space.
The landlords have a vested interest in making sure the property is well-kept as their child is living there too.
Cons:
If relationships become strained, it can have a knock-on effect and make your home awkward.
Your landlords might visit without warning to visit their child.
Raising issues with your living situation might be awkward.
With so many housing options open to you, it's worth taking the time to consider your needs carefully so that you pick the type of student accommodation that will make your time at uni as enjoyable as possible.
The Most Common Types of Student Accommodation
According to HESA data, the most common type of accommodation for students in the last academic year was privately-rented properties ('other rented accommodation')*, which are not purpose-built. It's worth keeping in mind, though, that this data was collected over 2020-2021, with the pandemic affecting many students' living situations.
The next most popular choice was living at home, followed closely by living in their own residence. However, if we narrow the field to just first-year students, just under a quarter (24%) lived in provider-maintained property.
Full-time and sandwich students by term-time accommodation
| | | |
| --- | --- | --- |
| Type of Accommodation | Number of students | Percentage of total |
| Other rented accommodation* | 576,620 | 27% |
| Parental/guardian home | 456,870 | 22% |
| Provider-maintained property | 335,300 | 16% |
| Own residence | 391,150 | 19% |
| Private-sector halls | 171,280 | 8% |
| Other | 79,690 | 4% |
| Not in attendance at the provider | 17,870 | 1% |
| Not known | 74,510 | 3% |
*Other rented accommodation; privately-rented properties which are not purpose-built.
Source: HESA Data and Analysis
Finding the best type of student accommodation for you will depend on a lot of different factors and where you're willing to make compromises. For example, maybe you can't see yourself sharing a bathroom with four other people, but you don't mind getting a bus to uni every day. The good news is, there are so many different types of student accommodation out there that you're bound to find something that suits your lifestyle.
If you need any more guidance on choosing your accommodation, or on student life in general, check out our blog, which has useful student accommodation advice like how students pay for accommodation and whether or not you need to pay council tax as a student.