Which Oxford Colleges Are Best?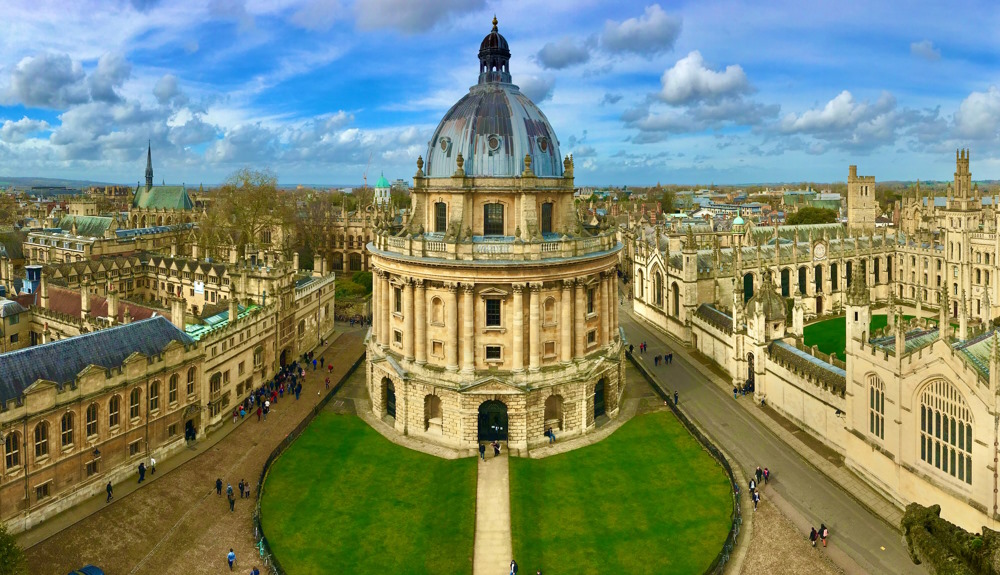 With an extensive list of renowned Oxford Colleges to choose from, selecting the best and most popular Oxford college can seem overwhelming. We've heard your struggles, and have compiled a list of ten of the best Oxford Colleges, along with what makes them a unique place to study and how you can plan a visit to experience the college first-hand.
Which Oxford College you choose will impact your choice of student accommodation in Oxford. Our selection of student accommodation in Oxford, including places for undergraduate, postgraduate and international students, is ideal for those looking to be closer to the centre, as well as those looking for a quieter space.
10 of the Best Oxford Colleges
Oxford Colleges form part of the University of Oxford, which has 44 colleges in total. Each Oxford College is independent and self-governing. Though students will study as part of a college, this will not limit their access to teachers and supervisors within their academic department. The course curriculum also remains the same, regardless of which college a student joins.
Each year, Oxford University compiles a list of its colleges and assigns points based on its academic performance. The Norrington Table points are awarded as such: 5 points to 1st, 3 to 2:1, 2 to 2:2, 1 to 3rd and 0 to pass/honours pass. Our ten of the best Oxford Colleges are those whose academic performance placed them within the top ten places on the University of Oxford Norrington Table.
1. Merton College
Merton College is one of the most popular Oxford colleges and sits at the top of Oxford's Norrington Table with a score of 82.9%. Located in the centre of Oxford on Merton Street and only a few minutes' walk from the University of Oxford botanic gardens, T.S. Eliot theatre and the university tennis club, Merton College is ideally situated for those looking to study in the heart of the student community.
Merton College was founded in 1264, and the famous Mob library (dating from 1373) is considered the oldest, continuously-used library for university academics and students in the world! Past Mertonians include JRR Tolkien, T.S. Eliot, Yang Xianyi, and Naruhito, the Emperor of Japan, to name but a few. Numerous Merton College alumni have led distinguished careers, acquiring Nobel Prizes in chemistry, medicine, philosophy and more.
A relatively small college, Merton admits around 90 undergraduates each year, creating a friendly and social environment. Merton's Entz reps, that is entertainment, hold fortnightly BOPs, or what they call 'Breaches of the Peace', with cheesy music, cheap drinks and lots of good fun!
What Makes Merton College a Unique Place to Study?
Unique to Merton college is the bizarre ritual of its Time Ceremony. This takes place at 2 o'clock on the last Sunday of October, when the clocks go back; Merton college students gather in one of the college quads to walk backwards arm-in-arm, drinking port or another beverage of choice. Originating in 1971 by a group of undergraduates at Merton, the Time Ceremony claims to ensure the preservation of the space-time continuum, and though its complexity baffles most, it remains a strong tradition carried on enthusiastically each year.
Visiting Merton College
Prospective applicants can visit Merton College for free between 9 am and 6 pm Monday to Sunday. For all other visitors, there is an entrance fee of £5 for adults, £3 for over 65s and children aged 13-17 years. Under 12s are free.
2. St John's College
St John's College comes in second in the Norrington Table as one of the best Oxford colleges with an impressive score of 79.8%. Located to the north of Oxford city centre, on St Giles', St John's was formed in 1555 by Sir Thomas White, a wealthy merchant tailor. The college formally gained prominence as a producer of Anglican clergymen and later gained acclaim for both law and medicine.
St John's college now provides a home for around 390 undergraduates, 240 graduates, 100 fellows and 25 lecturers, with its own medical care, counselling and dental care facilities.
What Makes St John's College a Unique Place to Study?
Unique to St John's College is its remarkable collection of art, including medieval vestments and embroidery, that undoubtedly impacts their enthusiasm and reputation within the art community. Each year, St John's invites a professional artist to be an artist-in-residence, providing invaluable experience and knowledge for students.
Visiting St John's College
You can visit St John's College to get a better feel for the college facilities, atmosphere and student life between 1 pm and 5 pm, or until dusk throughout the Winter months.
3. Lincoln College
Definitely one of the most beautiful Oxford colleges, and with almost 600 years of history, Lincoln College has some of the most iconic buildings in Oxford, including its front quad dressed in lush climbing plants, its 17thcentury library, and the hall, which beautifully displays its 15th-century timber roof and wooden panelled walls. Below lies the Deep Hall, a popular student bar with cosy seating nestled into the arches and famed as one of the first student bars established in Oxford after the Second World War.
Lincoln College has a Norrington score of 79.6%, and is located on Turl Street, just a stone's throw away from the Radcliffe Camera, the stunning reading room of the Bodleian library.
What Makes Lincoln College a Unique Place to Study?
At Lincoln College, all first-year students are guaranteed student accommodation with an ensuite. The college also provides accommodation for all students for the duration of their four years of study.
Visiting Lincoln College
You can explore Lincoln College's picturesque grounds on one of their prospective student open days, or why not check out their 360-degree virtual tour?
4. Brasenose
Neighbouring Lincoln College, is Brasenose College, known as one of the prettiest Oxford Colleges and situated on Radcliffe Square in the heart of Oxford city centre. Its location offers its students easy access to a multitude of markets, cafes, bars, pubs and shops, as well as university departments and libraries. Though the old quad square is a no-walk zone, Brasenose' new quad offers students a stunning location to relax and socialise surrounded by its historic architecture.
Brasenose is renowned for its academic excellence, whose students work hard, but always take time to have fun! Gerties bar lies at the heart of the student scene and hosts regular BOPs, open mic nights, and pub quizzes, while serving its students reasonably priced drinks.
Said to be one of the oldest in Oxford, Brasenose boat club was founded in 1815 and forms part of the college's wide selection of sporting activities open to all students.
What Makes Brasenose College a Unique Place to Study?
Brasenose College consistently ranks high as one of Oxford's happiest colleges. Its strong sense of community and its focus on ensuring the welfare of its students creates an inclusive and welcoming environment for all students. Not only that, Brasenose continues to encourage an accessible learning and welcomes 80% of their undergraduates from state schools.
Visiting Brasenose College
Brasenose College welcomes visitors from prospective students, and alumni, to the general public. Prospective students can visit Brasenose College free of charge by reporting to the Lodge, at the main gate, between the times of 9 am to 5 pm.
5. New College
Sitting 5th in the Norrington Table of Oxford colleges with a score of 79.1%, New College is one of the University of Oxford's oldest, yet prettiest, colleges and is thought to be the first Oxford college to admit undergraduate students.
Situated on Holywell Street, New College is on the edge of a number of beautiful green spaces for students to explore, socialise and relax, and is only a short distance from university facilities and libraries.
New College has a strong focus on student well-being and, in turn, encourages students to explore their interests, providing a host of student clubs and societies, such as a range of sporting clubs, choir and chamber orchestra, drama societies, LGBTQ+ societies, women's groups, BAME society, as well as course societies.
What Makes New College a Unique Place to Study?
Each year, New College students enthusiastically take part in competitive and for leisure punting activities as the college sports grounds are ideally situated by the riverside. Students and associate members can make use of New College's five traditional punts and enjoy one of Oxford's most characteristic activities during the months of March to October.
Visiting New College
Prospective students are welcome to visit New College with no admission fee and are offered a printed guide to the College grounds.
6. St Catherine's College
Surrounded by gorgeous green spaces, St Catherine's College is considered one of the best Oxford colleges, and is located on Manor Road, and offers a more modern and contemporary aesthetic, mixed with Grade 1 listed buildings.
St Catherine's offers students a wide array of subjects with an almost equal split between the arts and science. A commitment to student welfare ensures continued support for students throughout their entire studies, with many staying in contact with tutors long after graduating.
What Makes St Catherine's College a Unique Place to Study?
St Catz is Oxford University's largest and youngest college, and prides itself on its inclusive background, offering students an Oxford education without the prohibitive costs. While treasuring Oxford University's traditions, St Catherine's formed as a secular college and is committed to evolving with today's society with its motto 'Nova et Vetera' (the new and the old).
Visiting St Catherine's College
As an open college, St Catz welcomes visitors throughout the year and is a great chance to explore the facilities and student atmosphere. Attending a St Catz open day allows prospective students to meet tutors, staff and students, as well as a more in-depth tour of the college's facilities.
7. Worcester
Worcester College was first founded in 1714, and has since undergone a number of building transformations, while retaining its historical significance and charm. In the 18th century, Worcester College sat on the periphery of Oxford city; now the college's central location, off of Walton Street, boasts the benefit of retaining its extensive grounds, as well as being located close to the city's variety of shops, cafes and bars.
With a rich community of undergraduate and postgraduate students, Worcester College on of the most popular Oxford colleges as it offers a lively social calendar for all to enjoy, with regular BOPs and events organised by the Junior Common Room (JCR) committee.
What Makes Worcester College a Unique Place to Study?
For students, the college's 26 acres of grounds, including gorgeous manicured gardens, on-site lake and extensive sporting grounds offers the ideal place for sporting activities, social events, and a fantastic place to relax with friends. You can expect to see a number of shows performed lakeside, as well as its annual 'Worcester in the Park', held each summer with student performances and a good supply of refreshing Pimms.
Visiting Worcester College
Prospective students can visit Worcester College between 9 am to 5 pm Monday to Sunday. Booking a visit to the college is not essential, but it is recommended to avoid any disappointment and ensure sufficient capacity.
8. Balliol
Considered one of Oxford University's largest colleges, Balliol College, pronounced 'bay-lee-ol', houses the oldest academic institution in the English-speaking world, and is one of the oldest cofounded by a woman worldwide.
Balliol College is renowned for its outstanding academic results, with 40% of students gaining a first-class honours degree in 2019. With a strong academic life tutorial system in place, students and tutors work closely together to support and encourage real intellectual growth.
Located in the very heart of Oxford city centre on Broad Street, Balliol college students have quick and easy access to the best of what Oxford has to offer, including bars, cafes, shops and local theatres.
What Makes Balliol College a Unique Place to Study?
A big attraction for students of Balliol College, and one that makes Balliol one of the best Oxford colleges, is the Lindsey Bar. The bar is student-led and student-run by an elected member of the JCR who, in turn, gains the name of Lord or Lady Lindsey. Lindsey Bar is known as one of Oxford's cheapest student bars, opening its door to daily revellers Monday through Sunday, hosting regular events, and retaining its well-known jukebox and games machine.
Visiting Balliol College
Balliol College is open to visitors throughout the year with a small admission fee for the general public and free access for prospective students. The college endeavours to remain open to visitors, though college events can occasionally limit open times. Read the college's visitor information ahead of time to ensure accessibility to the college grounds.
9. Harris Manchester College
Harris Manchester College is Oxford University's only college dedicated to welcoming undergraduates and postgraduates aged 21 or over, and is therefore considered one of the best Oxford colleges for mature students. The college understands the need to provide an inclusive environment for students of all ages, whether they are embracing higher education at a later stage, entering into their second or third degree, or seeking a change in career or path in life. As such, you can guarantee a mix of undergraduate and postgraduate students from a mixture of backgrounds, countries and a wide range of life experiences.
Located on Mansfield Road, HMC is ideally situated for those looking for a lively city centre experience, with just a short walk to the city centre and its amenities, and easy access to the quieter, green spaces of The Grove.
What Makes Harris Manchester College a Unique Place to Study?
Harris Manchester College's ethos is rooted in its founder's radical perspective, epitomised in its motto 'truth, liberty and religion'. HMC was founded for those who rejected the beliefs of particular denominations, and continues to provide a space for open-spirited expression and learning. As such, MCR puts inclusivity and diversity at the centre of their values.
Visiting Harris Manchester College
Prospective students can visit Harris Manchester College during a selection of open days that will provide tours of the College grounds, as well as talks from college tutors and staff. Online tours of the college are also available for those unable to attend the in-person open days.
10. St Anne's College
Renowned as the first Oxford College to allow women to study, St Anne's College is considered one of the most popular Oxford colleges for its progressive, innovative and non-pretentious ethos. Its 'Be Well, Do Well' focus wants to ensure each student receives the best welfare and financial support available through a support network of fellow students, academics and welfare professionals.
St Anne's College is located to the north of Oxford city centre, and just a few minutes' walk from the university parks where the famous J.R.R Tolkien bench sits overlooking the River Cherwell.
What Makes St Anne's College a Unique Place to Study?
One of Oxford's largest colleges, St Anne's welcomes students from over 60 countries with around 446 undergraduates and 300 graduates. You won't be short on finding your tribe at St Anne's College!
Visiting St Anne's College
Prospective students can visit during St Anne's College open days in which students will have a chance to explore the college grounds, as well as take part in informal Q&As with tutors. Prospective students from further afield may be able to apply for free overnight accommodation as part of their open day visit.
Whether you're looking for the best Oxford College for its academic performance, subjects available to students, the best welfare programmes, or the most popular Oxford College for social activities, you are sure to find the ideal college for you.
The benefit of Oxford Colleges is the community they provide for students, mixing students from around the world and from a wide range of subjects.
Explore our student accommodation in Oxford today. Alternatively, head to our blog for help, advice and guidance on student living, open days, preparing for an interview, setting up your bills, and much more!