Finding Your Tribe: Tips for Making Friends at Uni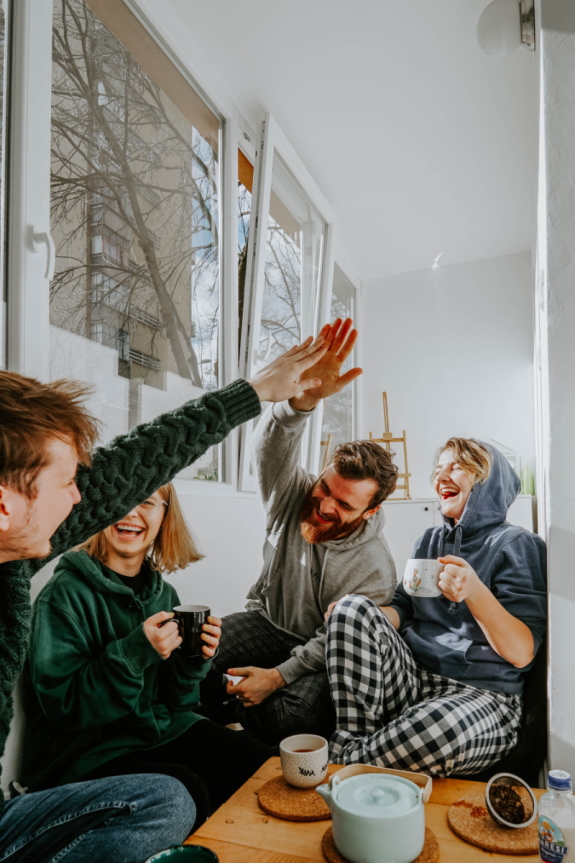 Making friends at university can cause even the most outgoing of extroverts to worry. Forming those tentative first uni friends can go hand in hand with your studies, while other friendships can be formed in the most unlikely of situations.
While each student's experience is different, our tips on making friends at uni look at an eclectic mix of ways that are sure to help you establish friendships to see you through those late-night library sessions, 3 am chicken nugget feasts and all the highs and lows of student life!
Is It Easy to Make Friends at Uni?
Whether you're beginning your university life as a first-year student or are a seasoned second-, third- or fourth-year student, many will be wondering, is it easy to make friends at uni?
One of the great things about uni is that everyone is in the same boat – nobody knows anyone and everyone is ready to meet new people. Combine that with countless socials, nights out and shared spaces on offer and making friends at uni is easy!
15 Tips for Making Friends at Uni
Making Uni Friends Before You Start
Attend a University Open Day
Whether you have decided which university you want to apply to or are still looking for a little bit more information before you make the big decision, attending a university open day is a great way to discover more about what a university has to offer, and gives you an opportunity to meet some fellow prospective students, whether they will be starting at the same time as you or are going into their second or third year.
That student you had a chat with may become a familiar face during your first few weeks of starting university!
2. Select Your Accommodation to Suit Your Needs
If you're after a busy freshers' week with back-to-back student events, choose a student accommodation that is synonymous with lively student life. If you'd prefer a quieter student experience, find student accommodation that has a "quieter halls badge". This allows you to find the best student accommodation to provide for your needs and complement your student experience.
You can probably assume that most of those you will then be living with will be after the same student life and experience as you, which means making friends at uni will be much easier! Take a look at our guide to living in student halls and discover the kinds of roommates you are likely to come across.
3. Join a Facebook Group
A great way to start making uni friends before you've even started university is to join a Facebook group. Try searching for groups that are linked to your upcoming studies, student accommodation or groups that are of interest to you, such as photography groups, sports groups, and so on, based in your chosen university town or city.
You'll be surprised by how many are looking to see who else will be joining them during their student life, and as members of a group, you've already got something in common!
4. Create a WhatsApp Group with Your Soon-to-be Flatmates
If you already know who you will be sharing a student accommodation with, whether they are in your shared accommodation or just in the same block, they will be thankful that someone has paved the way and begun the conversation.
This is a great way to begin to get to know each other before you actually meet in person, and will offer a friendly face once you're there, giving you a head start on making friends at uni.
Making Uni Friends During the First Few Weeks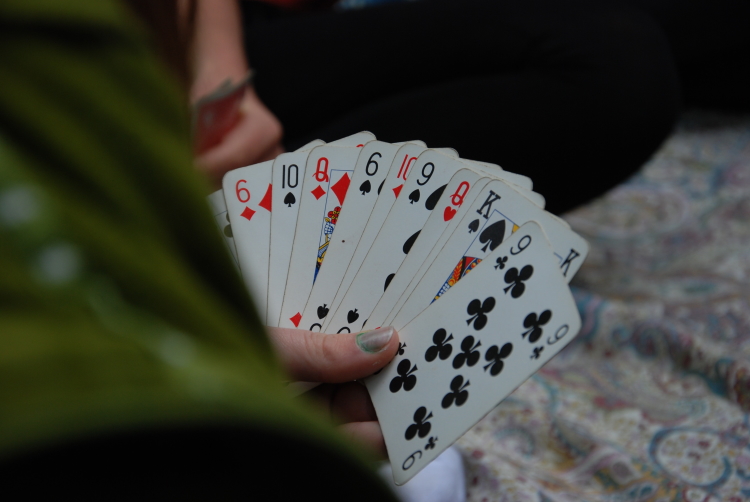 5. Games
A deck of cards is the perfect addition to nights in as well as getting you warmed up for a night out. Make sure to pack a deck of cards to offer you and your flatmates a great way to break the ice with games such as Go Fish, Ring of Fire, and Spoons. We guarantee you'll know your flatmates that little bit more afterwards!
6. Keep Your Bedroom Door Open
It may not seem like much, but having your bedroom door open every so often (when it's convenient, of course!) helps break down those physical barriers, and creates a more welcoming approach. It may just offer a chance for a quick hi or let your flatmates know you're up for a chat. Remember, every friendship starts somewhere!
7. Spend Some Time in Communal Areas
Nothing is wrong with spending time wrapped in a duvet fort with your favourite TV series, but, you have to put yourself out there and make yourself accessible if you're hoping to make friends at uni.
Try stepping out of your comfort zone every so often and spend some time in communal areas such as kitchens, a shared lounge or a student accommodation gym. This will create opportunities to get to know the people you're sharing walls with.
8. Resist the Urge to Always Have Your Headphones In
Nothing says, 'I don't want to talk' more than someone constantly having their headphones or AirPods in.
While this can be a lifesaver at times (we all do it!), it can also stop people from starting a conversation or just passing a comment your way. Keeping yourself as receptive to making friends at uni as possible, will pay dividends.
9. Share Some of Your Food with Flatmates
While we know money is often tight as a student and you can't possibly feed all your flatmates, offering some of your favourite snacks, sweets or drinks with those you live with can help to build some friendship bridges, show off a bit of you and what you like, and who knows, when you run out of milk, your flatmates will be more likely to offer you theirs.
You could also try to organise flat meals, where everyone pitches in and you all cook and eat together – it's a great bonding experience and you might find a new favourite food!
10. Turn Your Focus Away from Yourself and Focus on Others
It's always important to recognise how you're feeling, what works for you and what you feel comfortable doing when trying to make friends at university. But sometimes, we can end up so wrapped up in our own nerves and worries, that we forget that others around us are probably feeling these same worries.
Try focusing on how other students might be feeling, and how you could be a friendly face in a crowd of new people. More often than not, they too, will be feeling nervous about making uni friends, and will be hoping someone will make the first move.
Making Uni Friends on Your Course
11. Don't be Afraid to Sit Next to Others in Lectures
You'd be surprised how many people will be grateful you took the first step, so they had someone to sit next to. Of course, a little courtesy doesn't hurt, so make sure to ask if the seat is free; it may just start a little conversation!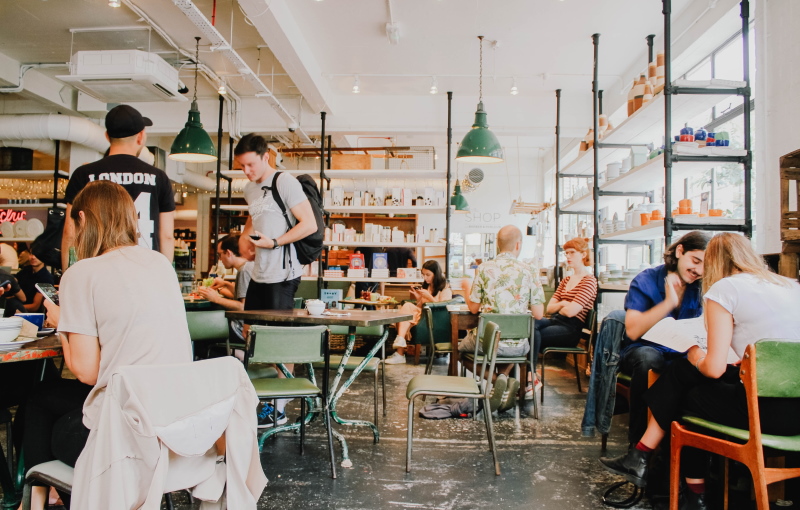 12. Organise a Coffee Date
Coffee, tea, smoothies, whichever you fancy! Instigating a post class/lecture date is a great way to get to know those on your course, and you can guarantee plenty will be in need of a pick-me-up or two after a night out.
Check out some of the local student-friendly cafes in our student city guides, such as our top 10 places to study in Edinburgh, so you've always got handy suggestions when the time arrives!
Making Uni Friends Through the Student Union
13. Join a Student Society
Joining a student society is a great way to make uni friends with those who have similar interests, enjoy your favourite hobby, or experience something new! A student union or association offers a range of societies and opportunities to explore interests as well as provide support throughout your studies.
Most universities will list all of their student societies on the union website with information about joining or Give It a Go events. Alternatively, a great way to check out a little bit more about the student societies on offer is to attend your universities freshers' fair, which often takes place within the first week of starting your new course, and offers the chance to hear first-hand what you can expect from a particular student society from those who have already joined.
Student societies are also infamous for putting on some of the best events, including balls, trips away, and nights out!
14. Take on a Job at the University Campus or Student Union Bar
What better way to get to know others and make some lasting uni friends than by serving your fellow classmates at the bar or assisting and supporting them during their studies?
Not only will this bring in some extra valuable money for nights out, shopping trips or to help you with your student living expenses, but it will also help you gain valuable career experience that will put you in good stead for when you graduate.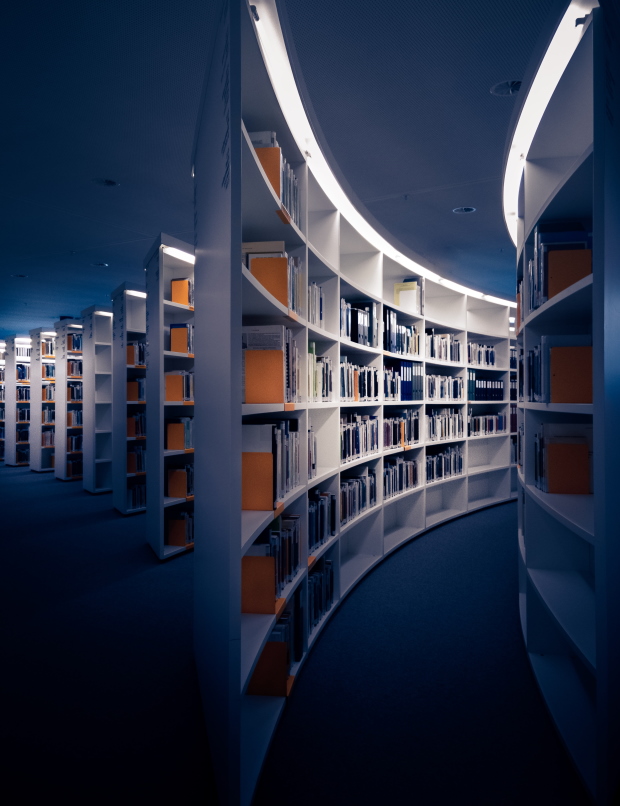 15. Study at the Library or IT Suite
Avoid the temptation of hiding away in your student accommodation while you study, and instead, embrace studying at your campus library or IT suite. Being around other students will increase the likelihood of making friends at uni by striking up a conversation with someone you recognise from your course, a student event or someone you have seen in passing from your accommodation.
Taking time every so often to study with your fellow students can also help to boost your mental health and curb loneliness. Our guide to student well-beinglooks at student mental health and tips to manage yours throughout your studies.
Making Friends as a Second, Third- or Fourth-Year Student
Making uni friends in your second, third, or fourth year as a student can seem even more intimidating when many may have formed their friendship groups in their first year. However, the beauty of university is its constant change. Most students change accommodation each year, moving in with new flatmates, changing from student accommodation to private accommodation, moving to a new area in the university town or city and so on. What's more, university course modules change each term, and though there can be an overlap in who attends each module, often, you will find new faces when starting a new module.
All of these situations pose the possibility of making friends at uni. Here are a few tips for making uni friends after your first year.
Introduce Yourself to New Faces
Try introducing yourself to those new faces in your new class. You can bet you'll have a tonne to talk about with already making it through a year or two of university and the experiences you've had along the way!
Plus, those new faces may be students who have travelled from another country to experience university life in your city and are looking for a friendly student to say hi!
2. Say Hello to Your New Flatmates
It may seem obvious, but often we can forget that first impressions can be the most important and will set the tone for the rest of the time we live with others. Extending a warm welcome to a new flatmate will never go amiss. A kind hello will help create a positive and friendly atmosphere with your new flatmate/s and provide an opportunity to get to know each other more.
3. Help Flatmates Move In
As well as extending that warm welcome to your new flatmates, offer to help them move into the new accommodation. It'll afford you the opportunity to chat while you both lug heavy boxes and suitcases up the multitude of stairs.
This simple act of service shows that you care and is more likely to help foster the beginnings of a new friendship.
4. Organise a Trip
As a second, third or fourth-year student, your confidence will begin to grow as you have a better grasp on your studies, student life and the town or city you are in.
Trying to think outside of the box and beyond just a coffee date with other students. Instead, organise a trip out to somewhere exciting, such as those in our guide to unusual places to visit in London for free! Then ask a bunch of other students if they'd like to come along.
Even if only one or two students decide to join you, you can bet, they're more likely to put effort in in making friends at university.
5. Embrace the World Outside of Student Life
Finding a club, or class that interests you outside of student clubs and societies will broaden your opportunities to find others with a common interest and maybe even make new friends. Why not discover a book or sports club, or exercise class at your local gym? Be sure to check out if they offer student discounts too!
Remember that you will all be in the same boat, and everyone will feel nervous about making friends at uni, no matter how much confidence they show off. While some friendships can form quickly as a student, most friendships often take time, and it's important not to compare yourself to others around you. You don't have to stick with your freshers' bestie for your whole degree!
University is a great time to take part in new experiences, enjoy the excitement of your freshers' year or continue to enjoy a student community as a second-, third-, fourth-year student or postgraduate.
Take a look at our blog for tips for living in student accommodation, to the best vegan cities in the UK, as well as helpful advice on all areas of student life! Our ultimate freshers' bucket list will inspire you to make the most of your first year as a university student, and who knows what friendships may be made along the way!