What Are University Open Days? An Open Day Guide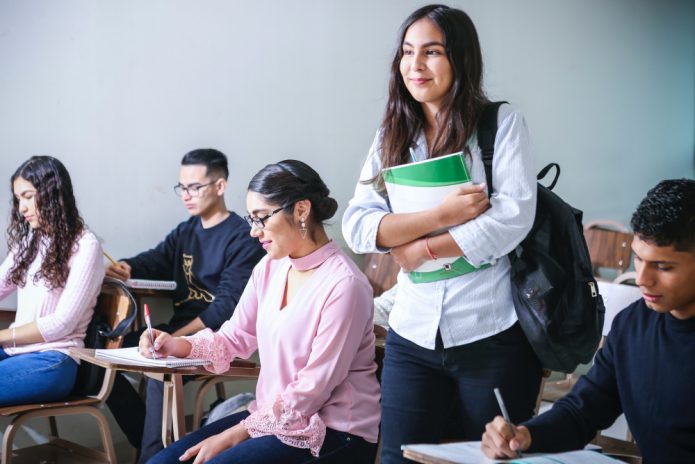 If you're about to start the process of applying for university, you'll have heard of open days, but what are university open days? Are they really that important for choosing a uni?
Let's be honest; on paper, every university has 'great student life' and 'exciting opportunities available'. Visiting the campus on an open day is one way to get a better feel for an institution (and make your uni application feel a bit more real!), and that's where our open day guide comes in.
In this article, we're taking a look at what a university open day is, what happens at university open days and what to bring to an open day.
What Is a University Open Day and Why Should You Attend?
Once you've done your research about what universities you might like to attend – and don't worry if you haven't done that yet, because we'll give you some things to look for later on – you might have narrowed down your search to a few universities that you might like to attend.
An open day is an opportunity for prospective students to visit a uni to see if they like the feel of it and get some practical information about the campus, uni life, and the surrounding area. It's also a great way to picture yourself living there and see if you like the vibe.
Attending an open day is a good idea before you finalise your options on UCAS; wherever you choose might become your home for the next three or four years, or even longer, so it's good to feel confident that you like it!
What to Bring to an Open Day
Before you head to your first campus visit, there are a few things you should keep in mind.
The first is what to bring to an open day – typically, you might want to bring:
A notebook and pen (or use the notes app on your phone) to keep track of all the information you'll be picking up
A water bottle since you'll be on your feet most of the day
A bag to carry any bits of paper or leaflets you're given
Comfortable shoes, so you don't end up limping around campus
Another important thing to consider about what to take to an open day is who will come with you; most people also bring someone else to the visit. Parents are the obvious choice, but any friend or family member might be the best fit to come with you and help you make your decision. Also, having someone to chat to and who might notice things you don't can help you get more out of the day.
Additionally, preparing a list of questions to ask or priority factors to bring to an open day beforehand will not only help you decide if a uni is right for you but also provides a basis for you to compare different unis easily.
Finally, make sure you book your place – most open days will require you to book in advance so they have an idea of numbers and can ensure the day goes smoothly.
What Happens at University Open Days?
Now we get to the good bit – what actually happens at university open days once you arrive on campus? There should be students posted around to make sure you get where you need to go, and when you find your group, the tour will begin!
Usually, the first thing that happens at university open days is that your open day guide will take you on a tour of the campus and point out some of the highlights; the union, the student bars, campus shops, your course buildings and the libraries are the usual spots you'll see on the tour. This is what university open days are all about, because a tour will get you into places you can't go without a student ID.
Most open days will allow you to book a space on an accommodation tour to see inside some of the student halls – you'll see some rooms, the common areas and the facilities available.
If you would like to explore the accommodation options at your uni (so you know which ones to book for a tour), search by institution or city with Mystudenthalls.com.
Attend a talk or workshop about your course
One of the most important parts of an open day, these talks will answer some of your questions about the course itself, like the core modules you'll have to take, how many modules you'll take in a term, how many contact hours you'll have and how the course is assessed.
Attend a practice lecture
Another popular event that happens at university open days is the practice lecture. Some open days will run lectures for your course that you can join to get a feel for the course material and what it's like to study at that uni.
Making the Most of an Open Day
Open days aren't just about the guided tours run by the university. While the tours are really useful for getting into student-only spaces like the libraries or accommodation, you can spend some time in the day doing your own thing.
Explore the area – most unis are in fairly close proximity to a city, and that will be where a lot of the good stuff is. When you've had your fill of the campus, take in lunch or dinner somewhere in the city and have a wander about to see if you like the feel of it.
Talk to current students. Your open day guide and student ambassadors will be a fountain of information but bear in mind that the university has paid them to show its best light. Talking to a random person can give you a more honest understanding of uni life, so long as you're polite and not intrusive towards someone obviously studying.
Walk around the campus, away from the tour groups if possible. Getting a feel for how the campus is on a day-to-day basis is important, and it might be worth walking out to some of the student residential areas to see if you can picture yourself living there.
What to Look for in a University
We know that there are a lot of things to keep in mind, so if you need some guidance on your list of questions and priorities, here are some of the common things that students look for in a university.
Accommodation
What different types of accommodation are available?
What facilities are available on campus? Are there laundrettes, food shops, or a night bus to get you home when it's late?
If you're interested in quieter halls, where are they?
Course
How many contact hours will you have?
How is the course assessed: exams, coursework, practical assignments, presentations?
What module options are available? Do they offer the direction you would like to take your studies?
What career paths do students on this course typically take?
Uni and campus
Roughly what is the cost of living for a student on campus?
Does the campus have amenities onsite or nearby?
Will you need to do an interview?
Can you get a job on campus if you would like to?
What support does the uni offer its students? This might refer to your financial, academic, wellbeing or accessibility needs.
Area
What is the nightlife like?
Are there good public transport options and travel links?
What is there to do during the day?
How close are you to home? For some students, getting far away from home for new experiences is ideal, but staying close enough to visit regularly can also be beneficial.
Finding the right uni for you is a very personal choice and not one to be made lightly. Hopefully, this open day guide has helped you to better understand what university open days are and how to get the most out of your visit to make your decision that much easier.
For more guidance on applying to university or for ideas on how to spend the summer before you start, please check out our blog.