10 Best Places to Study in Edinburgh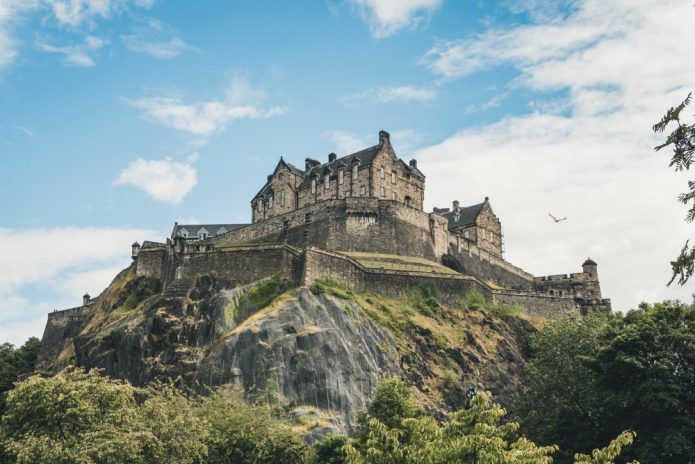 At Mystudenthalls.com we know that spending long hours studying in your Edinburgh student accommodation or university campus can be tiresome, lonely and often lacking the creativity and enthusiasm essential for arduous research and writing. Let us lighten up those hours by offering alternative places to study in Edinburgh that provide you with all the essential amenities you need, from free WIFI to a relaxed atmosphere, copious amounts of refuelling beverages and plug sockets!
Sometimes it's just a change in environment that can be all that is needed to lift writer's block, give you a fresh perspective on a piece of work, or provide an injection of energy for looming deadlines!
Here are our top 10 best places to study in Edinburgh
View this post on Instagram
Union Brew Lab
Not only will Union Brew Lab supply you with many areas for setting up your study area, but you can also guarantee the coffee will be en pointe for that all-important refuelling. That's not even mentioning their selection of sandwiches, toasts, pastries and vegan doughnuts!
This café to study in Edinburgh is centrally located for many students, so you can expect a general student crowd catered for with all the amenities a student may require. Make use of their fast and reliable free WIFI, and if your laptop or device struggles to keep up with the long hours of study, Union Brew Lab has many plug sockets dotted around their seating area, so you don't need to worry about breaking that workflow.
Union Brew Lab is ideally suited for Edinburgh University students and those in the Potterrow accommodation.
Location: 6-8 South College Street, Edinburgh, EH8 9AA
Opening Hours: 8am-8pm daily
View this post on Instagram
 Black Medicine Coffee
Just around the corner from Union Brew Lab is the widely popular Black Medicine Coffee, named after a notion that the long-ago native people of America referred to coffee as 'Black Medicine'. This longstanding café is full of history and atmosphere with a loyal base of customers.
If you're hoping to settle in for a long study session, there is no need to worry about any time limit being in force here, and with their excellent free WIFI, Black Medicine makes this an ideal place to study in Edinburgh. So, pull up a pew, indulge in their quality coffee and delicious food, and you can expect to be revived throughout your studies.
Looking for some literary inspiration? Your next reading list find? Or some supporting research? Just a few doors down, you will find Blackwell's bookshop, a literary treasure trove! And what's more, if you're looking for ways to spend your student summer, during August, the Edinburgh Fringe Festival takes over the city with one of their most popular locations, the Pleasance, less than five minutes' walk away!
It is ideally located for Potterrow students but with great bus links and is just a stone's throw away from the Royal Mile.
Location: 2 Nicolson Street, Edinburgh, EH8 9DH
Opening Hours: 8am-6pm daily
View this post on Instagram
The Red Squirrel
If you're looking for a place to study in Edinburgh on the west side of Princes Street, then take a walk down bustling Lothian Road, and you're sure to notice The Red Squirrel, a cosy and inviting modern bistro pub adorned with fern planters and chequered flooring. If it isn't the friendly staff that welcomes you first, it'll be the smell of their delicious food!
Not only do they have free WIFI and a multitude of plug sockets dotted around the peripheral seating to attract you to study here, but they also have a dog-friendly policy that will leave you swooning over their cuddly patrons. There are plenty of corners to get comfortable in for your studies, and when you're done, Princes Street is just around the corner for some post-study retail therapy.
The Red Squirrel is ideally located for Portsburgh Court and 27 Kings Stables Road student accommodation as well as any students spending their time in the very heart of Edinburgh city centre.
Location: 21 Lothian Road, Edinburgh, EH1 2DJ
Opening Hours: Sunday to Thursday 10am to 2am, and Friday to Saturday 10am till 1pm
View this post on Instagram
Cairngorm Coffee
This west-end hangout is the perfect location to get stuck into your studies as there is almost always an array of others beavering away on their laptops, sipping simultaneously on their hot cups of Cairngorm coffee, which, you've guessed it, is fantastic quality!
As Cairngorm coffee is a renovated old estate agent, the café boasts a wrap-around window creating a beautifully lit interior as well as ideal opportunities to people watch (in-between the extensive studying you have!). With free WIFI, charging points and delicious treats to hand, this is a great place to study in Edinburgh for students hoping to get some all-important study hours in.
Location: 1 Melville Place, Edinburgh, EH3 7PR
Opening Hours: Monday to Friday 8:30am to 5pm, Saturday and Sunday 9am to 4:30pm
View this post on Instagram
Loudons
Who said brunch? Loudons is renowned for its fresh, hot-off-the-pan food, excellent coffee and its wide selection of teas. The fully accessible open-plan space, large sturdy tables and free WIFI (get this, the password is PASSWORD), makes this café an ideal place to study in Edinburgh. With floor-to-ceiling windows and a steady activity of people coming and going, you can ensure it is an ideal setting to stay awake and focused.
With its growing popularity, Loudons has now branched out to two locations. Its flagship café is ideally located for students in Fountainbridge and Dalry accommodations such as IQ Fountainbridge and Murieston Crescent, while its New Waverly location is perfect for students at Panmure Court, IQ Elliot House and Haddington Place accommodation.
Location: 94B Fountainbridge, Edinburgh, EH3 9QA
2 Sibbard Walk, Edinburgh, EH8 8FT
Opening Hours: Monday to Friday 8am to 3pm, Saturday and Sunday 8am to 4pm
View this post on Instagram
Cult Espresso
Looking for a trendy little hideaway to study for your next deadline? Cult Espresso will serve both the needs of your coffee addiction, sweet tooth and Lego enthusiasm (just look up), all while offering you a comfortable space and atmosphere to concentrate on your studies.
You can be sure that the WIFI is reliable and strong enough to contend with the steady flow of students that come here to study. And when you're done, Cult Espresso also provides great little tabletop games to battle your friends!
Ideally located for University of Edinburgh students as Cult Espresso is just down the road from George Square as well as the conveniently located Meadow Court student accommodation.
Location: 104 Buccleuch Street, Newington, Edinburgh, EH8 9NG
Opening Hours: 9am till 5pm daily
View this post on Instagram
Roundsquare Coffee House
Venturing to a café to study in Edinburgh can sometimes be a risky business with some café owners having a distaste for customers taking up space for lengthy amounts of time while on their laptops. That is why it is so important to know where the best study spaces in Edinburgh are.
One such place is Roundsquare Coffee House, as its all-inclusive, friendly vibe will welcome you in and provide you with a comfortable place to pass those studying hours in peace. Don't forget to ask for the password for their free WIFI and if your laptop or device is running out of steam, there are accessible, free to use charging points dotted around the seating area.
While you're there, order something to reinvigorate your energy, and you might just be pleasantly surprised with their fantastic latte art! When you're finished, pop over the road and make the most of Morningside's best charity shops, which in our recent blog, ranked #5 in the UK's best charity shops!
Ideally located for Edinburgh Napier students with the Merchiston Campus just around the corner.
Location: 132 Morningside Road, Edinburgh, EH10 4AY
Opening Hours: Monday to Friday 8am to 5pm, Saturday and Sunday 9am to 5pm
View this post on Instagram
Nomad
Nomad could not be a more ideally located place to study for Edinburgh students, especially those who frequently use the rail service for commuting purposes or like to head home for their Sunday lunch. Haymarket train station and Edinburgh tram stop are just across the road!
Grab an invigorating smoothie or delve into their affordably priced selection of toasties (that classic student staple) to keep your studying energy high. And not forgetting the most important aspect for your studying needs, their WIFI and charging points are easily accessible and free to use!
Nomad café is ideal for students at IQ Grove, Nido Haymarket and Murieston Crescent accommodations.
Location: 2 Haymarket Terrace, Edinburgh, EH12 5JZ
Opening Hours: 9am to 4pm daily
View this post on Instagram
Hideout Café
Take a trip all the way along Leith Road towards Leith Shore and there, sat proudly on the corner of Queen Charlotte Street and Constitution Street, is the trendy Hideout Café. With its floor-to-ceiling arched windows and inviting atmosphere, it's an absolute must-visit for those looking for a comfortable place to study. Don't miss their decorative collection of old-school cassette players!
When it comes to the essentials of a great space to study in Edinburgh, the Hideout café has free and reliable WIFI, accessible sockets and a relaxed approach to those wanting to get some hours of study done.
Though it may seem that the Leigh Shore area is miles away from the action of the city centre, it is rapidly becoming THE trendiest place to live in Edinburgh with the addition of the tram, café and restaurants popping up left, right, and centre and a popular bar scene.
Ideally located for students in the Leith area of Edinburgh.
Location: 40-42 Queen Charlotte Street, Leith, Edinburgh, EH6 6AT
Opening Hours: Monday to Friday 8:30am to 5pm, Saturday and Sunday 9am to 5pm
View this post on Instagram
Think Pastry
This family-run café has all the best sweet and savoury Greek pastries your tastebuds could desire! Don't believe me? Take a look at their Instagram for mouth-watering pictures. You'll be sure to keep going back for more, not just for their pastries and free WIFI but for their friendly and inviting atmosphere to study in.
Sitting just around the corner from Easter Road, Think Pastry is ideally located for New Park student accommodation as well as Huxley Studios and Straits Meadow.
Location: 80 Montrose Terrace, Edinburgh, EH7 5DP
Opening Hours: Tuesday to Sunday, 9am to 5pm
Studying need not feel like a chore all of the time – getting out and finding a change of scenery can be all that is needed to get you through those long hours and days! Edinburgh's café scene is bursting at the seams with enthusiastic baristas determined to supply you with the best coffee around, so you can guarantee that our choice of cafes to study in Edinburgh will not disappoint your refuelling needs. And who wouldn't want to add a little sweet (or savoury) treat in there too?
Take a look at our Edinburgh accommodation and see where your local place to study in Edinburgh will be! Or if you're still trying to choose between Scotland's two favourite student cities, Edinburgh and Glasgow, then let us enlighten you to whether Glasgow is a good student city, and if it will be the right choice for you!