Is Glasgow a Good Student City?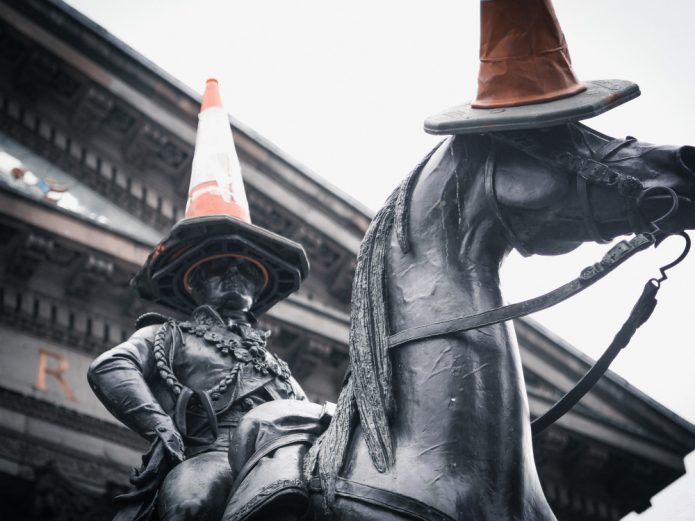 If you're looking at the University of Glasgow, the University of Strathclyde or Glasgow Caledonian University, you might be wondering if Glasgow is a good student city. It's true that Glasgow has had its share of bad press, but in 2021, a Rough Guides poll actually saw Glasgow voted the 'friendliest city in the world', so you definitely shouldn't be put off.
Thanks to the three universities in the city centre, there are plenty of things for students to do, see and try!
Glasgow Student Life
Glasgow is a great student city for any kind of student. The city is full of character, and known for its inhabitants' love of keeping a traffic cone on a statue of the Duke of Wellington. Wander through more than 3,500 hectares of greenery in one of Glasgow's many parks and gardens, including Queen's Park with its skate park, aviary and boating lake, and spend your nights in one of the many incredible bars and clubs, such as the Berkeley Suite or versatile SWG3.
It's also easy to get around, with many students favouring bikes as a quick way to zip about and others preferring the subway. Alternatively, check out our student accommodation in Glasgow, where there are loads of options right in the heart of the city centre if you want to be able to walk almost everywhere.
Student Safety in Glasgow
When it comes to safety, Glasgow is a good city for students as all three major universities in the city participate in the 'Safe Taxi Scheme'. This means students can call up Glasgow Taxis, quote their uni's short code and show their student card as a deposit to get home safely, even with no money on them. That means no getting into dodgy Ubers at 3am, or stumbling back to your accommodation!
There are also Student Help Zones dotted throughout the city – these are spaces that any student who is feeling vulnerable or unwell, or who has been the victim of a crime, can go to receive assistance and be safe and secure.
Best Things to Do in Glasgow for Students
Okay, clubs and cafes are all well and good, but what else is there do in Glasgow for students? Luckily, the city has no end of fun things to do after lectures are done for the day.
View this post on Instagram
Glasgow-themed mini golf for grown-ups – because why not?
Yep, you read that right. Fore Play is an over-18s mini golf experience with two courses themed around key themes for students in Glasgow – the Finnieston Crane and the cone that is always found on the Duke of Wellington statue's head. Obviously. With a bar, cocktail garden and street food on offer, you can make an evening of it or pregame your night out. Either way, it's a staple part of Glasgow student life!
See something amazing at the IMAX Cinema
Attached to Glasgow Science Centre is an IMAX cinema for a movie-going experience like no other. Watch the latest blockbusters on a 24×18 metre screen with sharp colours and thundering audio, all available on a student concession ticket! You'll never see a film the same way again.
Spot the heads hanging from the ceiling
The Kelvingrove Art Gallery and Museum is the best way to soak up some culture in Glasgow, with exhibits from Ancient Egyptian embalming to Dutch art, with a healthy dose of Scottish history sprinkled throughout the exhibits. And of course, don't miss out on photo opportunities with the Floating Heads exhibition – installed by Sophy Cave in 2006 ago, the piece includes over 50 heads suspended over the East Court, each with its own facial expression. Spooky!
View this post on Instagram
Go bouldering without leaving the city
Not everyone likes to go for a jog as their preferred exercise and if you like clambering up big rocks (or think it sounds fun), The Prop Store is the place to be. Take a beginner's course if you need it and get climbing with bouldering and roped climbing! Plus, if you pick up their TCA Pass, you can climb at their centres across the UK, including The Newsroom (a bouldering-specific site, also in Glasgow) which is a little closer if you're at the University of Strathclyde.
Get your hands on some vintage clothing
One of the great things about Glasgow for students is that it has tons of amazing vintage shops including Glorious Clothing, Glad Rags Glasgow and the Glasgow Vintage Co. However, revered as possibly one of the best vintage shops in Scotland is Mr Ben Retro, offering an eclectic collection of clothing of all types, with big brands frequently appearing including Burberry, Levi's and Barbour.
If you prefer thrifting to vintage, check out our list of the UK's best charity shop destinations.
And, at the end of the day, there's one key reason that Glasgow is the best student city, and that is its hangover cures. A pizza crunch and an Irn Bru is the best way to bring yourself back to the land of the living.
And on that note…
Things to Try in Glasgow for Students
If you're new to the city or new to Scotland as a whole (and this goes for all students in Scotland, including those in Edinburgh, Stirling and St Andrews!), there are a few local delicacies you need to try while you're there. You're not a proper Scottish student if you haven't tried most of these, and you can find them pretty cheap in most shops.
Irn Bru – Scotland's soft drink is known for its bright orange colour and adverts that border on inappropriate.
Tennent's Lager – dating back to 1556, Tennent's is known as Scotland's favourite lager. Take a tour of their brewery, just 15 minutes' walk from the centre.
Haggis – to be honest, the less said about this, the better. But you should try it anyway.
Tablet – aim for sugar overload and you'll land at tablet. A kind of crumbly fudge, you'll definitely need a sweet tooth to stomach it.
Pizza crunch – if you're not from sunny Scotland, you might not be familiar with this term. A pizza crunch is available at most chip shops and consists of a pizza that's been battered and deep fried. Don't knock it until you try it!
In no time, you'll find yourself celebratin taps aff wae a fish supper, and you'll have a strong opinion on whether Celtic or Rangers are better.
Here's a hint though – don't ever tell a Scottish local that you 'can do a Scottish accent', especially if you're in a pub. You probably can't, and they might charge you extra for the audacity!
So, is Glasgow a good city for students? We think it is, with plenty of things to do and new food to try. Couple that with some incredible Victorian architecture and a dose of good Scottish pride and you're onto a winner! Sold? Take a look at our student accommodation in Glasgow. Still not sure? Take a look at our blog for more guides, including 35 free places to visit in London as a student and how to decorate your new student home.