Where to Get the Best Breakfast in Nottingham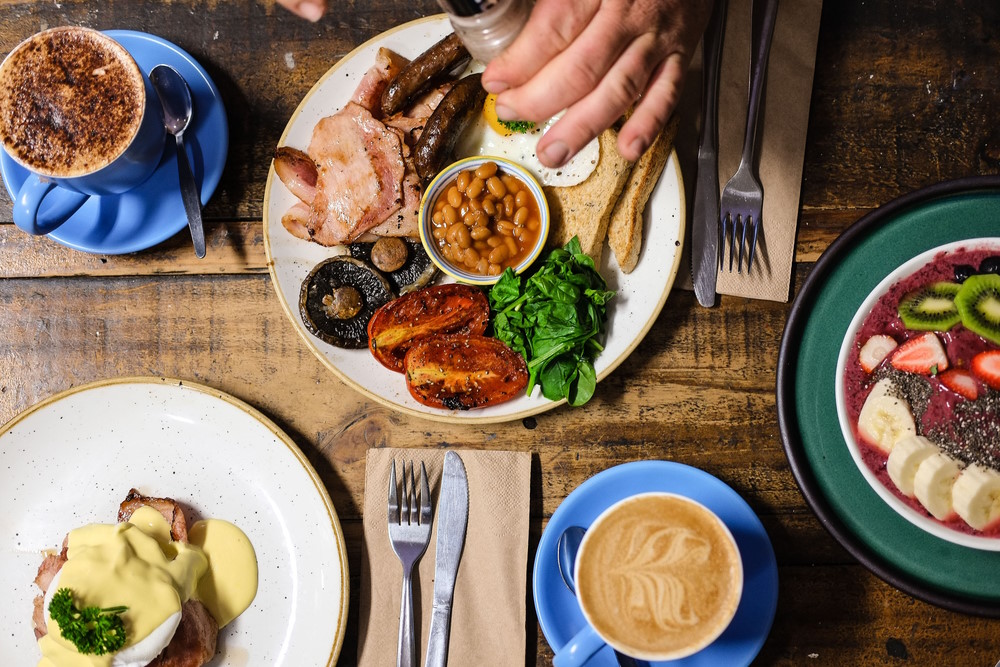 If you were wondering where to get hold of the best breakfast in Nottingham but didn't know how to acquire it, then look no further! Attention all university students in Nottingham: if you're searching for the best drunk food for your Sunday morning hangover, or just something to kickstart your day of learning, you need to find the best places for breakfast Nottingham has to offer! Mystudenthalls.com are here to help you find that perfect munch.
Best Places for Breakfast in Nottingham
The Pudding Pantry
First up, on the list of best breakfasts in Nottingham, we present The Pudding Pantry! This sweet spot may be on the pricier side of fry–ups, however they do provide homemade food that looks truly Instagram-worthy!
Alongside their afternoon tea and extensive set of desserts, they offer a variety of brunches (with plenty of options for vegans too, such as their 'Vegan Hash'). For something lighter and plant-based, there is scrambled tofu on toast. On the other hand, if it's a meaty full English you are after, they have 'The Full Pantry' where a classic full English meet the American breakfast with pancakes, maple syrup, bacon, sausages and the rest! If it's just the American experience you're wanting, then their selection of pancakes, with toppings from Biscoff to berries, may tickle your fancy.
Another great part about The Pudding Pantry is that they stay open late on Friday and Saturday evenings, so if you're not a morning person or your Friday night hangover has you waking up at all sorts of times, don't fret – you can still get your calorific cure.
Location: 27/29 Trinity Square, Nottingham, NG1 4AF
Prices: £££
Opening Times:
Monday–Thursday + Sunday, 9am – 5pm
Friday – Saturday, 9am – 10pm
Ed's Easy Diner
Whether you live close to the University of Nottingham or if you're simply having a trip into the city centre and fancy some grub to start your day, located upstairs in the Victoria Shopping Centre, there is Ed's Easy Diner. The American-inspired diner has a chain of restaurants across the UK and their take on a fry-up is American–themed, rather than your usual full English. Although the diner isn't traditionally British, Ed's still offers one of the best breakfasts in Nottingham. They serve sausage patties instead of sausages and you can even get that all-American classic, fried chicken and waffles, so if you're up for a taste of the USA, why not swing by?
Location: The Victoria Centre, Nottingham NG1 3QN
Prices: ££
Opening Times:
Monday – Saturday, 10am – 6pm
Sunday, 11am – 5pm
Bendigo Lounge
About three miles away from Nottingham City Centre is the small town of Beeston, one of the most popular student areas in Nottingham. If you live further out or are in of need somewhere slightly quieter than the city centre, maybe a short trip out of the city for brekkie is wise. Bendigo Lounge is named after the famous 19th-century boxer from Nottingham. The café-cum-bar serves full English fry-ups all day long and is renowned for not being shy with portion sizes.
Location:  55 High Rd, Beeston, Nottingham NG9 2JQ
Prices: £££
Opening Times:
Monday–Thursday + Sunday, 9am – 11pm
Friday – Saturday, 9am – 12am
Annie's Burger Shack
Up next, we have Annie's Burger Shack. Inspired by the first ever diners in Rhode Island, USA, Annie's burger shack has some of the most interesting burgers the UK has ever seen. Annie's breakfast menu varies depending on the season, and their current winter menu has two sectors, savoury and sweet.
The savoury menu presents 'The Lumberjack', a bold breakfast offering that comes with three scrambled eggs, three pieces of bacon, three buttermilk pancakes, a sausage patty and home fries or hash browns. Or if you want a full English with a twist, why not give Annie's big breakfast burrito a go, filled with sausage, bacon, egg, refried beans, peppers, potatoes, mushroom cheese and the rest. Mouth-watering right? If you have a sweet tooth, there is plenty to choose from on the sweet side of their multi menu, from American waffles to pancakes and even vanilla cream cheese stuffed toast.
While this is not technically one of Nottingham's breakfast restaurants, their unique and delicious take on breakfast means Annie's is definitely worth adding to the list.
Location: 5 Broadway, Nottingham NG1 1PR
Prices: £££
Opening Times:
Monday – Friday, 12pm -10pm
Saturday, 8am – 10:30am
Sunday, 12pm – 10pm
Ciao Bella
When trying to find breakfast restaurants in Nottingham, don't miss out on the hidden gems that may be a bit further out. If you are a Nottingham Trent student, you will be aware of or may even be studying at their new Mansfield Hub. In Mansfield, just 30 minutes out of Nottingham city centre, is Ciao Bella. Offering a hearty full English breakfast for £11 or a vegetarian alternative for £10, Ciao Bella's breakfast selection is not to be missed. The only downside with Ciao Bella is that there is no vegan breakfast option available. Still, this is a great option for veggies and meat-eaters alike!
Location: Cattle Market House, 15 Nottingham Rd, Mansfield NG18 1BJ
Prices: ££
Opening Times:
Monday – Sunday, 8am – 11pm
Homemade Café
Up next, we have Homemade Café, a cosy little spot with tasty food and beautiful park surroundings. The café is situated in the middle of the Forest Recreation Ground. When your family come to visit, and you're scouting for the best places for breakfast in Nottingham, why not make a day out of it and go for a walk around the Forest grounds, then stop for some grub at Homemade Café. It's even dog–friendly if your furry friend is visiting too.
They offer you traditional breakfasts, both hot and cold, and they also have a bakery where they serve fresh cakes, homemade sausage rolls and plenty of other treats.
Location: Forest Recreation Ground, Mansfield Rd, Nottingham NG5 2BU
Prices: ££
Opening Times: Tuesday – Sunday, 10am, 4pm
Toast Deli & Café
Toast provides a selection of breakfasts on various types of bread. From wraps to bagels, to their gourmet breakfast with scrambled eggs, crème fraiche and chives on sourdough, Toast is here to fulfil your carb-fuelled needs. Everyone knows that if you want to give your followers food envy, what better than a picture of your smashed avocado on toast? Toast has your back with their avocado, sourdough and balsamic tomatoes… and not forgetting the chilli flakes to give the final pièce de resistance!
For those who prefer a healthier start to the day, they serve an organic muesli with Greek yoghurt, honey and seasonal fruit. There are gluten-free and vegan alternatives for many of these dishes too.
Location: 202 Derby Rd, Nottingham NG7 1NQ
Prices: ££
Opening Times:
Monday – Friday, 9am – 2:30pm
Saturday – Sunday, 9am – 1pm
Morrisons Café
Last but definitely not least, we have the Morrisons café. At Mystudenthalls.com, we know just how difficult managing your money can be as a student. You have to think about your tuition fees, affording your accommodation, food, supplies for university, travel and everything in between. Just because your funds may be running low or because you're budgeting doesn't mean you should miss out on a good greasy breakfast every once in a while!
Amongst the more affordable breakfast restaurants in Nottingham, thankfully, we have Morrisons café. The supermarket-cum-cafe is only a short trip out of the centre, in Gamston. For only £6.99, you get two sausages, two hash browns, mushrooms, beans, egg (however you want it cooked), bacon and even fried bread! Morrisons Café is open all week long and breakfast is available all day!
Location: Gamston, West Bridgford, Nottingham NG2 6PS
Prices: £
Opening Times:
Monday – Saturday, 7am – 7pm
Sunday, 9.30am – 4pm
So, there you have it: the best breakfasts in Nottingham, AKA our hangover cure handbook. As much as we love to party, going for walks, trips out of town or into the city, joining a friend or loved one for a breakfast date are great ways to enjoy yourself too. If this has sold you on moving to Notts, whether you're considering the University of Nottingham or Nottingham Trent Uni, have a look through some of our Nottingham student accommodations and see which is best for you.