16 Fun and Affordable Things to Do This Spring in London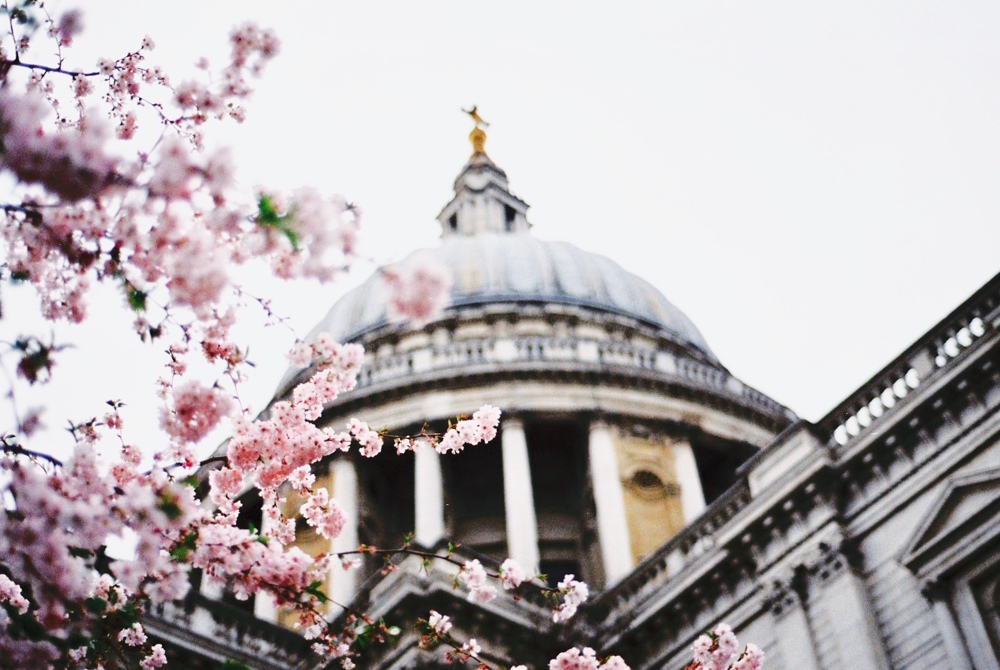 Nothing gets us at MyStudentHalls.com more excited than the first hint of springtime in London, and the promise of longer, warmer days! London has been voted one of the most beautiful cities in the world in spring. It's no wonder that, at the first sight of sunshine, Londoners are out taking full advantage of the gorgeous green spaces, an abundance of festivals, exhibitions, events, and spectacular sightseeing possibilities.
What's more, enjoying London's spring activities doesn't need to break the bank either! There are tonnes of activities on offer that you can enjoy on any budget, from free events to making use of a range of money-saving, student-discounted activities.
16 of London's Top Spring Activities
Explore our list of fun and affordable activities for students this spring in London, including ticket prices and how to get there!
London's Springtime Flowers
Top of our list is the best places to check out London's gorgeous spring blooms. As the days get brighter, and vibrant colours fill the streets, make sure you check out some of the most iconic spots to take in the wonders of nature in the springtime in London.
Chelsea in Bloom
Everyone flocks to the RHS Chelsea flower show, yet some of the most spectacular displays can be found in London, and cost nothing to enjoy! Chelsea in Bloom takes over the streets in and around Chelsea, showcasing spectacular floral exhibits. The theme for 2023's Chelsea in Bloom is Flowers in Film and takes place at the end of May. This free event's past locations have included King's Road, Sloane Street, and Dovehouse Green, which housed giant orcas and larger-than-life floral Corgi dogs!
Tickets: No tickets are required for this public event.
Getting there: Chelsea is super accessible by the underground with the Circle, District, Central, and Piccadilly lines (to name but a few) taking you in and around this beautiful part of central London. You can take the District line from London Embankment station to Chelsea (15 mins), or enjoy a walk along the waterfront to Chelsea (approx 40 mins).
Holland Park
Pack up your favourite treats and a blanket and head to Holland Park to marvel at the abundance of spring tulips, daffodils, and cherry blossoms. Discover the beautiful Japanese garden and orangery, or book a slot and make use of the tennis courts or cricket pitch.
Tickets: No tickets are required.
Getting there: Holland Park is situated in the green suburb of Kensington, accessible via the Central, Circle, and District Line. You can take the Circle line from London Embankment station to Notting Hill Gate, or the Central line from any station straight to Holland Park station.
The Tide
Take a trip to the Greenwich Peninsula to The Tide – London's elevated, riverside, urban garden trail. This gorgeously landscaped space includes public art installations, independent food and drink traders, and meditation points. As Greenwich Peninsula is located on the shore of the Thames River, this space makes for spectacular springtime viewing and Insta-worthy selfies.
Tickets: The Tide is a free space for all to enjoy.
Getting there: The Tide is situated in the Greenwich Peninsula next to the iconic O2 arena, and is accessible by underground on the Jubilee line. From Westminster, catch the Jubilee line to North Greenwich, then take a short few minutes' walk to The Tide.
Spring Food Festivals
Spring in London always means one thing: the beginning of London's best, and most delicious food festivals. Sometimes making friends at uni can seem scary, but nothing bonds people together more than experiencing great food together!
Marylebone Food Festival
Marylebone Food Festival takes place each year during the month of April. You can expect a host of family-run cafes, and relaxed restaurant dining events to gastronomic excellence and ultra-chic cocktail bars. It's a celebration of eclectic dining and drinking experiences. Choose from a selection of ticketed events from master chef, cocktail, and butchery classes, to wine tasting, and after-parties.
Tickets: Event prices start at £4.50 per person, depending on the event you choose.
Getting there: Marylebone Food Festival takes place all across Marylebone, just a short walk north of Oxford Street. There are a number of nearby underground stations including Regent's Park, Oxford Circus, Bond Street, and Baker Street.
Surbiton Food Festival
Surbiton Food Festival takes place fortwo weeks during May and welcomes local businesses to show off their produce in a fun and inclusive environment. You can expect a fortnight of food, drinks and celebrations, bringing the community together. As one of the UK's best vegan cities, you can expect this London food festival delivers a wide choice of delicious vegan vendors, offering some of the most tantalising and flavourful vegan foods. A permanent fixture in the event's line up is the popular sardine festival, including a themed procession and a BBQ for all to enjoy.
Tickets: Free access, no ticket required.
Getting there: The suburb of Surbiton lies south of Hampton Court, along the river Thames. The quickest way to get to Surbiton is to catch the train from London Waterloo station to Surbiton train station (approx. 20mins journey).
Spring Festivals
If catching the city's most upcoming music artists is more your thing, there are tonnes of musical festivals to get you excited during springtime in London.
Gala Festival
Looking for a livelier music event? Gala Festival embraces all things house and disco. Taking place each May at Peckham Rye Park, this springtime event in London spans over three days with a host of genre-spanning live music and is sure to offer something for everyone.
Tickets: From £50 per person.
Getting there: You can reach Peckham Rye via the overground and Southern line to Peckham Rye station.
Carib Nation Spring Jam
You know it's spring in London when Carib Nation takes over the popular Boxpark venue in Shoreditch. This free event provides authentic Caribbean music with some of the best entertainers the UK has to offer. Make sure to turn up early and secure your spot for this lively springtime musical event.
Just around the corner is the London College of Fashion student accommodation, ideally placed for late-night music revellers looking for a short journey home after a fun night out.
Tickets: Get your free admission ticket online.
Getting there: Take the overground line to Shoreditch High Street, and you'll find Boxpark outside just off of Bethnal Green Road!
Pub in the Park
Pub in the Park is the perfect opportunity to grab some friends, and enjoy great music and culinary delights from a range of pop-up vendors and stalls. Each spring, Pub in the Park takes place in Wimbledon with past performers including Tinie Tempah, and Clean Bandit, as well as chefs Ainsley Harriot and Si King, having appeared in recent years for those enthusiastic cooks out there.
Tickets: £56 per person for a full-day pass.
Getting there: Getting to Pub in the Park, Wimbledon is easy with a number of nearby underground stations, including Wimbledon Park and Southfields. Alternatively, catch the overground train to Earlsfield or Wimbledon station.
Springtime Sightseeing
One of the best London spring activities is to hop aboard a touring bus or boat and enjoy some wholesome sightseeing, while taking in the beautiful sights of springtime in London.
Hop on and Hop off Bus Tour
One of the best ways to enjoy spring in London is aboard an open-top London tour bus. Each Hop on and Hop off Bus Tour ticket includes a free river tour. Choose between the classic tour, taking you past all central London sights, and London's Muslim quarter or the essential tour, taking you past Madame Tussauds, King's Cross, Hyde Park, and Regent's Park. Tour buses operate every 15 to 30 minutes with multilingual audio guides available, plus free WiFi!
Tickets: £32 per person.
Getting there: Check out the bus routes to discover all the pickup and drop-off points for each bus tour.
Uber Boat Ride
One of the best alternatives to London's bus tours is taking an Uber boat ride. Catch a Thames Clippers Uber boat ride along the river Thames, and take in the sights of London in springtime at a fraction of the cost of traditional touring boats! Journey past iconic London landmarks, enjoy a range of snacks and drink available to buy onboard, with a choice of indoor and outdoor seats.
Tickets: From £5.20 per person.
Getting there: Up to 24 piers to choose from across London.
London's Spring Exhibitions
The exhibition scene gets into full swing during the springtime in London, with some of the best and most awe-inspiring exhibits opening all around the city.
Saatchi Gallery
Saatchi Gallery hosts a range of exciting art exhibitions and installations including a springtime spectacular called Beyond the Streets, a celebration of graffiti and street art. Located within Duke of York's HQ, King's Road, you're sure to be wowed by the gallery's latest exhibitions.
Tickets: £15 student tickets.
Getting there: The Saatchi Gallery sits within the picturesque area of Chelsea, easily accessed across central London via the District, Central, and Circle lines.
Flannels Underground Exhibition
Hidden below Flannels iconic flagship Oxford Street store, their underground exhibition, Flannels X, boasts futuristic and interactive installations as well as the latest pop-up fashion experiences. The exhibition changes every month in a bid to expand the conversation between the world's most creative communities.
Tickets: Free admission. Booking required.
Getting there: Flannels, Oxford Street can be easily accessed via Bond Street, Oxford Circus, and Tottenham Court Road underground stations.
Activities for Rainy Spring Days
Spring may signal the beginning of warmer weather, and bright sunshine, but it can also bring with it a lot of rain! Finding London spring activities that get you out of the rainy deluge (but keep the fun going) isn't hard in a city as lively as London. Here are our favourite activities for rainy days in London.
Babylon Park
Camden Town's best-kept secret has got to be Babylon Park, an underground arcade, equipped with immersive AR simulators! Babylon Park is open Monday to Sunday, 10 am to 10 pm, and is ideal for gamers of all ages.
Tickets: Free admission. Arcade games and rides range from £1-£6 and operate on a game coins system with £1 equalling 10 game coins.
Getting there: The closest station to Babylon Park is Camden Town station, which can be reached via the Northern line. Then take a short walk to Castlehaven Road.
Twist Museum
London's home of optical illusions, Twist Museum was created in collaboration with artists, neuroscientists, and philosophers. You can expect your sensory experiences to be pushed to the limit and expanded. This fully immersive experience is well worth a visit during those greyer, rainy spring days.
Tickets: £16.50 student admission.
Getting there: Twist Museum is centrally located on Oxford Street, making it easy to access via Bond Street, Oxford Circus and Tottenham Court Road underground stations.
English National Opera
Discover the joy of the opera and immerse yourself in creative and engaging productions.
The ENO has opened up an under 21s scheme, offering free tickets for under 21s in a bid to make the opera accessible for all. You can also find discounts on tickets available for under 35s. Discounted tickets are available for productions at the London Coliseum; make sure to book early as there is limited availability!
Tickets: Free admission for under 21s.
Getting there: The London Coliseum lies south of Covent Garden and can be easily accessed via Charing Cross underground station.
Gallio Pizza Making
What's better than enjoying fresh, springtime produce on a homemade pizza, crafted by you at Gallio's pizza making class? Take part in a pizza making masterclass with the professionals at Gallio, with arrival nibbles and dips included and, of course, your homemade pizza to enjoy once cooked!
Tickets: £20 per person. Food included.
Getting there: Gallio is located within Canary Wharf, and can be reached via the Elizabeth or Jubilee lines.
There are so many London Spring activities to discover, from exploring the vast expanses of green areas, to expanding your culinary, musical and sensory experiences, or simply taking in the wonders of London's spectacular and iconic sights. Spring in London signals the beginning of the festival and events season while avoiding the hustle and bustle of the busy summer season.
For London students, finding accommodation that places you in the heart of the action, makes reaching all the fun and affordable springtime activities in London a breeze. Explore our student accommodation in London, or discover what else London has to offer, including our guide to unusual places to visit for free in London, and why north London is considered one of the best charity shop destinations in the UK.