A Guide to Southampton Student Life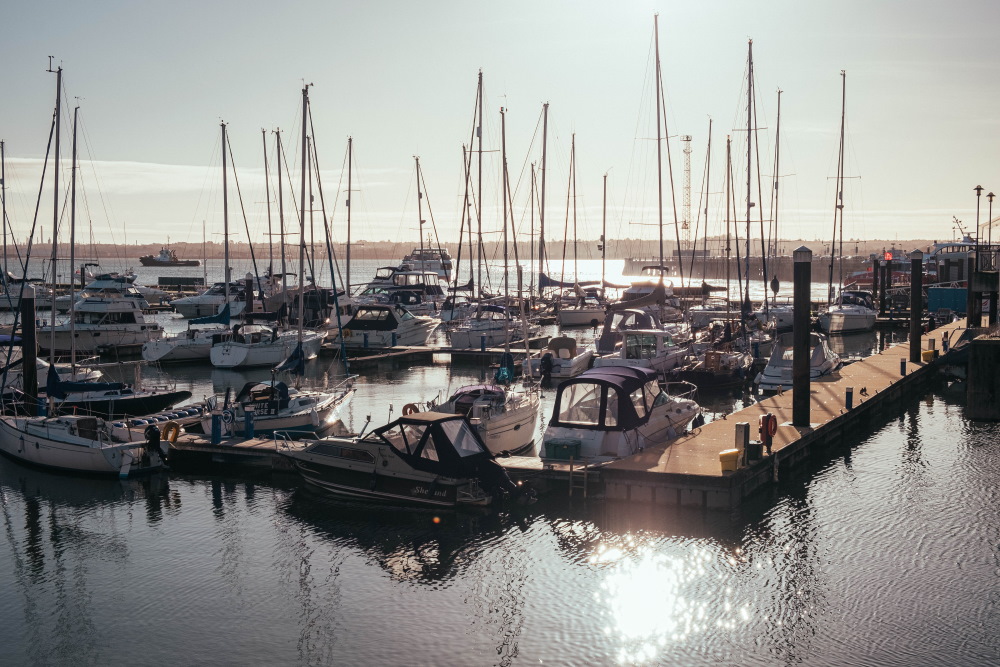 Is Southampton a good student city? Let us take you on a virtual tour of Southampton student life with our comprehensive guide that explores the most student-friendly restaurants and bars, Southampton's best live music and nightlife venues, affordable and inclusive sports and recreational activities and your essential transport links to get you to and from campus and all around the city!
About Southampton
Southampton is a port city situated on the south coast of England with a famed history, sweeping sea views and coastline, and a cosmopolitan mix of visitors passing through each year. This has led to a diverse hub of creativity with a large array of arts, music, and events to enjoy year-round. Plus, the city has a focus on healthy living with the availability of exhilarating coastal sports and stunning national parks right on its doorstep!
Southampton is also home to the University of Southampton, as well as Southampton Solent University and City College Southampton creating a bustling and vibrant student scene. And, it was labelled the 3rd most affordable city for students in the NatWest Student Living Index 2022! It is no surprise then that Southampton for students has ranked #78 in the QS World University Ranking 2023 for criteria such as academic reputation, international student ratio and employment outcomes.
What Does Southampton Have to Offer Students?
Restaurants and Bars
You can expect that Southampton's student life is well catered for with an abundance of quirky and unique restaurants and bars catering for a growing demand. But which are the best for students looking to grab themselves some tasty grub and a pint without breaking into their overdraft?
Trago Lounge sits at the east of Southampton common on Portswood Road and offers a comfortable and chilled vibe with a deliciously affordable menu, including a range of vegan and vegetarian options. Plus, if you're needing a little 'hair of the dog' after a long night out, Trago Lounge has a variety of cocktails to hand!
Walk a little further down the road, and you'll find The Gordon Arms, a no-fuss, no-frills venue that hosts a roaring quiz every Thursday to satisfy students with a general knowledge enthusiasm.
Travel a little further into the city centre to the Bedford area of Southampton, where you'll be met with a hive of student activity and no shortage of independent restaurants, bars, shops and boutiques and all within walking distance of Southampton's Cumberland Place and London Road student accommodation. Considered Southampton's students' worst-kept secret is the uniquely conceptual 20s-style speakeasy, Bring & Mix. Take a bottle of your favourite liqueur, and their resident mixologists will create personalised drinks just for you and your company.
Or why not try The Orange Rooms and take full advantage of their 2-4-£10 offer on all cocktails while sitting amongst their vibrant interior? A truly Instagrammable spot! And to add to your collection of photographic memorabilia to send (or not) to your family, the Mile High bar sits just below The Orange Rooms and is decked out like an airline, transporting you to their heights with a choice of cocktails, also available at a two for £10 discount!
Thirsty for a good ol' pint? Beards & Boards supplies a range of locally brewed craft beers and ales and pop punk tunes amongst a vibrant display of skateboards and memorabilia. Or pop over to Crib, where they offer affordably priced pints and bottomless brunch with the chance to challenge your fellow university students to a game of shuffleboard. Bottomless brunch seems to be a running theme in Southampton for students as The Bedford is a popular bar for those seeking affordable food and drink with a two-hour bottomless drink and brunch for just £25! Plus, it's a great spot to catch the latest sports games, while upstairs boasts a pool table and arcade games.
If none of these options has quite caught your eye or you're looking to find a bar almost exclusively for Southampton students, then Sobar is your place! As you can expect, as a dedicated student bar, Sobar offers students impressively cheap drinks (£1 double vodkas, to be specific!) and a multitude of themed nights to tantalise every music genre. Check out their weekly Jukie's Jukebox every Saturday night, or discover upcoming events such as their infamous dance anthems garden party. There really is a multitude of restaurants and bars, affordably priced to cater for those hungry-eyed students, you're really not short of finding a student-friendly setting to enhance your Southampton student life!
Sports, Recreation and Leisure
Getting involved with sports is a great way to expand your social circle, and physical exercise can do wonders for your physical and mental health. As you can imagine, Student life in any city isn't always easy breezy (yes, those looming deadlines fill even the toughest scholar with dread!), and with the cost of living increasing, it has never been a better time to head out and make the most of all the sporting opportunities Southampton has for students.
According to the Mental Health Foundation, "physical exercise can be very effective in relieving stress" while "highly active individuals tend to have lower stress rates compared to individuals who are less active". This can be vital for students as NatWest Student Living Index 2022 found 28% of Southampton students felt stressed about managing their money, while 42% of Southampton students rated their degree as stressful. Overall, these scores were much lower than other city universities, but the need to find a way to manage stress for students is still so important.
So, let's get to where the fun really begins! And where better than the Southampton Water Activities Centre, which happens to be just around the corner from Lucia Foster Welch student accommodation. This fantastic water sports centre deserves a place in our guide for Southampton students because of its vast choice of activities such as windsurfing, sailing, power boating and paddle boarding, all offering a range of introductory courses to more intermediate courses if you should fancy taking it further than just a recreational session. What's more, if water sports are your 'thing' and you want to invest more time into it in between your studies, the centre also offers a selection of shore-based classes like sea safety and first aid.
Southampton also boasts two fantastic climbing centres, a popular choice for students for the social element that it offers. Parthian Climbing is a well-known company with climbing centres dotted around the country, with one conveniently placed in Southampton. You can expect climbs easy enough for the most novice climber, but if you fancy yourself a climbing aficionado, they always deliver on supplying tougher climbs! In line with providing a space to feel safe and comfortable, they run women's social climbing sessions every Monday and mixed social climbing every Friday with concessional tickets at £10 for an all-day pass!
Another amazingly student-friendly climbing centre is Boulder Shack Climbing Gym which not only offers great climbing and bouldering but runs free (yes, FREE) student nights, including a climbing introduction, pizza and an in-house DJ set just to top it off! And that's not forgetting their affordable membership prices and discounts for Southampton students.
What's more, many Southampton student accommodations have their very own in-house gym included in your accommodation rent, such as Capital House, Vincent Place, Cumberland Place and London Road to name a few!
And did we mention that Southampton has its own Ninja Warrior centre as well as an interactive baseball entertainment centre? There is no shortage of sporting activities on offer, so there is no wonder Southampton appears on our list of healthiest universities!
Plus, there are a huge array of museums and parks to peruse on a chilled or rainy day, including free admission to Southampton City Art Gallery, Brickworks Museum costing students only £5 entry, and the Tudor House and Garden at £5.50 for students and available as a joint ticket with the SeaCity Museum.
But sometimes, a trip further afield can be just the right type of adventure away from the bustle of the city. The New Forest National Park lies just across the River Test and is easily accessible for non-driving students by coach or train, getting you there in under 80 minutes. Full of rolling hills, bountiful wildlife and tonnes of activities, there is no shortage of bike hire centres with daily rates of just £22. Plus, the New Forest Wildlife Park has admission at £13.75 for students and, for bigger thrill seekers, there is always Paultons Theme Park!
There really is a great choice of sport or recreational activity available to enhance your Southampton student life, but often the best memories are the simplest. If you're hoping to find a space to sit and catch up with friends, the cultural quarter is the most central green space to enjoy. Alternatively, Southampton common is just a little further north of the city centre and an ideal spot for Highfield students, particularly those at St Margaret's House student accommodation.
Live Music and Nightlife
We all know it's not lights out at 10pm for students in Southampton. And so, to quench your thirst for a night out, we have selected the best live music venues and nightclubs that won't leave you strapped for cash.
The 1985 venue has to be one of our favourites, hosting alternative and fresh-on-the-scene artists and bands along with comedy, jazz and cabaret nights. No need to worry about missing any of the action as its large mezzanine allows for optimal viewing. And when the night is over, and the warmth of your bed calls, students staying at Nido The Walls are just around the corner.
If you're looking to catch some of the biggest names in music as they tour the country, Southampton has its own O2 Guildhall in the cultural quarter of the city and within walking distance from Park House student accommodation. Guildhall has seen artists such as The Killers, Manic Street Preachers, The Kaiser Chiefs, Amy Winehouse and many more, but if the lure of an evening of belly laughs sounds more your thing, you're sure to find your favourite comedians sending Southampton spectators into a laughing frenzy. With its wide selection of ticketing options available, you can be sure to find great seats without breaking the bank.
For one of the best Southampton student nightclubs, look no further than Switch, a venue like no other with its state of the art sound system, spectacular lighting effects and a track record of hosting some of the country's most influential artists, including Stormzy, Pendulum and Seth Troxler. But it's often Switch's Skint Tuesday that really pulls the crowds, offering massive anthems and £2 drinks!
Or, why not try out Southampton's infamous Jesters club, considered an essential right of passage for all Southampton students supplying £1 drinks for their weekly Monday Mayhem student night. And we can't forget to mention Southampton's vibrant Buddha Lounge, a weekday cocktail bar and popular weekend student nightclub.
Transport
How do students get around the city of Southampton? The county of Hampshire is putting more and more focus on creating sustainable transport for its residents, and Southampton is one city that is really paving the way and setting the bar. To encourage residents and visitors to embrace public transport, the Southampton council have created better and more reliable modes of transport in and around the city.
For students, the Unilink buses are a fantastic option to get you from your student accommodation, whether you are staying Quayside or a resident of Highfield, and will take you directly to your university or college campus as well as many areas in the greater area of Southampton.
And, running alongside many of the Unilink buses are the Bluestar buses that run regularly from early doors to late nights, an ideal choice for campus commutes and getting to and from those late nights out! Purchase your Smartcard online or at your university campus, and simply top up online for use on both Unilink and Bluestar buses.
If you're hoping to venture a little further out of the city or need a connection to a London airport, National Express run regular buses from the Highfield Interchange and Southampton bus station all the way to many of London's airports, with discounted fares for those with student ID.
And if you're a keen festival goer, you'll be taking advantage of Southampton's prime location for the Isle of Wight festival. Check Redfunnels online booking systems to plan your visit over to the Isle of Wight, England's largest Island, with ferries taking you there directly from Southampton itself!
Or, for another fantastic mode of transport for students, check out how Southampton is one of the best student cities for cycling and why it is becoming a popular choice to get from A to B. With Southampton's My Journey sustainability initiative, you can find easy-to-follow cycling routes throughout the city, with more and more routes being created each year. At a fraction of the cost of driving, taking the train or bus, cycling is the most affordable transport option for students and a great way to increase an active and healthy lifestyle.
From Southampton Central Train Station, students have access to Bournemouth, Windsor, London, Richmond, Poole, and many more exciting places, meaning your weekends and day trips have endless possibilities! And with Southampton's very own airport on your doorstep, taking a trip home or abroad is easier than ever.
At MyStudentHalls.com, we understand that creating a fun and affordable student life in Southampton can seem overwhelming, so we hope this guide has provided some inspiration! There is a wide selection of fantastic student accommodation in Southampton that will land you in the heart of the action or a little further afield for a quieter student experience. Either way, you are sure to find somewhere to suit your needs and provide you with memories to last a lifetime!
For more helpful resources before you head to university, check out our blog! From guides to UK tuition fees to resources on the different types of student accommodation, we have it all covered.