15 Fun Things to Do in Liverpool for Students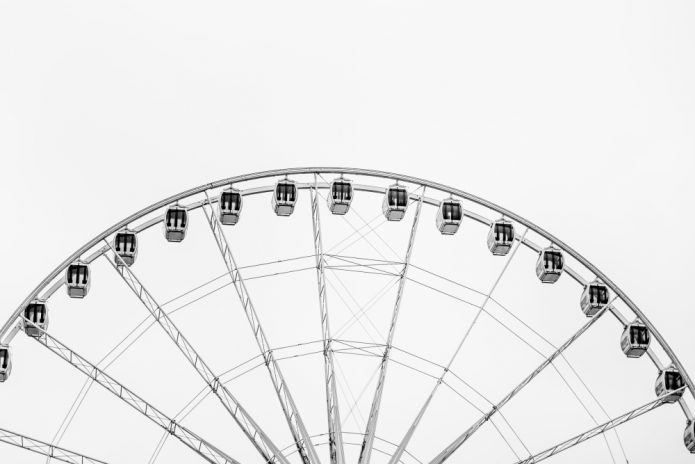 There are hundreds of fun things to do in Liverpool for students – so much so, that it can be hard to know where to start. No need to worry, because we've put together our top 15 things for students to do in Liverpool.
Fun Things to Do in Liverpool for Students
View this post on Instagram
This centre is a great place to let off some steam and cool down in those hot summer months! Race your mates around the Aqua Park (and definitely don't push anyone in so you win – or do) or go paddleboarding. You can even take lessons if you want to learn how to do it yourself, which cements this as one of the most fun things to do in Liverpool for students!
£18 per person for the Aqua Park, £10 to paddleboard (or £20 for a guided lesson).
Join the 7000-square-foot arena at the only indoor paintball facility in Merseyside. With different price points available, Ultimate Indoor Paintball comes with overalls, a mask, air refills, insurance and, of course, your paintball gun. Challenge your mates to Capture the Flag or blow off some steam on a Free 4 All match where everyone is a target!
If you're living in Byrom Point then this is definitely one of the best things to do in Liverpool for students, as it's less than a ten-minute walk away.
£20 per person with 200 paintballs included.
Charity/vintage shops
Liverpool has a high proportion of vintage and charity shops for everything you could need, with furniture, clothing and accessories. In fact, it even made #17 on our list of the UK's best cities for charity shops, and visiting the shops is a great thing for students to do in Liverpool. Check out Total Recall, Cow Vintage and Pop Boutique for some really unique, retro finds.
View this post on Instagram
We love a cat café, and we know you do too. Did you know that hearing a cat purr can lower your blood pressure and stroking a cat can slow your heart rate?
The Liverpool Cat Café has some adorable kitties and is open for snuggles six days a week; it's the perfect way to de-stress and maintain your student wellbeing during the term.
Visit Anfield Stadium
Whether you go for a stadium tour or to watch a match, every LFC should make the pilgrimage to Anfield stadium at least once. The tour includes the home and team dressing rooms, the press room, player's tunnel and the This Is Anfield sign, as well as amazing views of the pitch and the city. Visit the home of LFC and you'll never walk alone. Especially if you're walking ten minutes around the corner for a Nabzys cheesy chips with red salt.
£18 per student for the LFC Stadium Tour, Museum and Boom Room Exhibition.
Baltic Triangle is a creative hub in the heart of Liverpool. From cafés to clubs, street art to shopping, there really is something fun to do in Liverpool for every student! You'll find lots of tasty vegan options – there is a reason Liverpool is one of the best vegan cities in the UK. Even better, they're socially conscious; this year, they're joining the Liverpool Pride march, organising litter picks and raising funds for Ukrainian artists.
Did we mention there's rave bingo?
View this post on Instagram
This one is a bit hush-hush. Ex-Directory is a cocktail bar just off Cavern Quarter, but with a twist – its entrance is concealed in a phonebooth. Novelty aside, the bar itself has some incredible drinks, live music and even a disco ball, making visiting this bar one of the best things to do in Liverpool for students. A great spot, if you can find it…
Visit the Royal Albert Dock
A key dock in global trade in the early 19th century, today the Royal Albert Dock is home to a variety of shops, restaurants and museums including the Tate Liverpool and Beatles Museum. There's also a sculpture called 'Liverpool Mountain' which appears to defy gravity, and its fluorescent colours are ideal for getting amazing pics.
An experience like no other and a great bonding opportunity if you and your flatmates like to sing, Coverstar offers two hours of private recording studio time, as well as a private bar with bartender. You'll be guided by a professional sound engineer, and there are even wigs and props. The more people you can bring in, the better!
£26.95 per person for the standard package.
View this post on Instagram
With over 60 loose-leaf teas from around the world, it's safe to say that LEAF really likes tea. But that's not all – you can find brunch, drinks and even a pudding club at this amazing venue, and they play host to gigs, book launches and even weddings.
Yeah, no, we came back to the pudding club too. Five courses with a matching tea – definitely the best thing for students with a sweet tooth to do in Liverpool.
Liverpool Wheel
The Liverpool Wheel is fairly self-explanatory; much like the London Eye, it offers you incredible views of the city and its surroundings. The Wheel is 60 metres tall and even has a VIP capsule with a glass floor (if your student loan can stretch that far). If not, don't worry – the regular one has just the same views for much cheaper!
£7.50 per person for a standard capsule.
A traditional Turkish hammam may not be what you expected to do in Liverpool, but it is guaranteed to make you feel more relaxed. Pick up a sauna and body exfoliation, get a massage and even a beauty treatment from a team of expert masseurs, hairdressers, barbers and beauticians for one of the most relaxing things for students to do in Liverpool.
£49 per person for the standard package.
View this post on Instagram
In their own words, FACT exists for the 'support and exhibition of art and film that embraces new technology and explores digital culture'. All of the exhibitions are free, making this an ideal visit to do in Liverpool for students and every one is an amazing celebration of art and culture. They also offer workshops, activities and performances to keep you entertained.
Free admission.
Chinatown
Home to the oldest Chinese community in Europe, Liverpool's Chinatown is the place to be for incredible Chinese snacks, meals and baked goods. You'll find Chinatown by The Imperial Arch, with five roofs and 200 (yes, 200) dragons as part of its immense, intricate detail. The arch was a gift from Shanghai, which is twinned with Liverpool, and to be honest, it's worth a visit just to marvel at it.
You can't live in Liverpool without acknowledging the impact that The Beatles had on the music world, and one thing to do in Liverpool for students is to take a tour of the Fab 4's sights, hearing some of the stories and insights. Choose between a quick one-hour trip or commit to the group and take the three-hour tour. Don't forget, you can go with up to five mates!
£75 per cab, for up to six guests.
Of course, there are so many fun things to do in Liverpool for students that we couldn't possibly list them all here, but we hope this is a good start! Check out our blog for our other city guides, including Is Glasgow a Good Student City? and A Student's Guide to Living in Birmingham.